Aug. 26, 2010
Summer 2010 rewind
by Paula Van Brocklin
From building completions, to the near demise of the Big 12 athletics conference, to a record-breaking flood, Iowa State's summer of 2010 was eventful. If you spent a few months away from campus, the following highlights will help you get up to speed.
Construction updates
Hach Hall, the chemistry department's new three-story, $78 million building located south of the Molecular Biology Building, opened Aug. 23. The building includes teaching labs, research areas, faculty offices and meeting rooms. Hach will be dedicated on Oct. 8.
Faculty and staff began moving into the new Biorenewables Research Laboratory (south of Design) last spring. While many labs were in use throughout the summer, the high bay and teaching labs opened last week. The four-story, 70,000-square-feet facility is home to the Bioeconomy Institute, and two of its affiliate research centers, the Center for Biorenewable Chemicals and the Biobased Industry Center. The facility's dedication is Sept. 17.
While a wet summer delayed work on the Morrill Road improvement project, the street officially opened on Aug. 20. The new concrete road remains one-way for southbound vehicle traffic. The project also widened the west sidewalk, standardized angle parking on the road (except in front of Morrill Hall) and created an open loading zone and gathering space in front of Beardshear Hall. The former bicycle lane is part of the new road as well.
Rain also delayed a city project on the north side of campus to replace all four lanes for 13th Street between Stange Road and the railroad overpass to the west. The 50-day project began May 10, and reached its mid-point Aug. 6. With dry weather, the project should be complete in September.
A new intermodal transportation facility, located between Sheldon and Hayward avenues near Campustown, received funding approval and is scheduled to open in June 2012. The facility -- a collaborative effort between ISU and the city of Ames -- will provide a transportation hub for bus, bike, carpool, commuter, taxi and pedestrian traffic.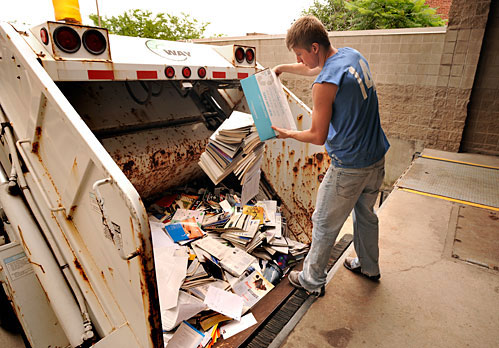 University departments cleaned house this summer in response to the "Green Your Scene" campaign to collect mixed paper, unused paint, electronics and appliances. Seventeen tons of mixed paper was collected for recycling. Photo by Bob Elbert.
Green efforts gain momentum
Budget talks
Athletics conference shake-up
Early summer filled Cyclone fans with uncertainty and anxiety as the Big 12 Conference appeared to be on the brink of collapse due to defections by some members. After nearly a month of discussion, only Colorado and Nebraska left the Big 12 for the Pac-10 and Big Ten conferences, respectively. The remaining 10 schools, including Iowa State, pledged their commitment to stay in the Big 12.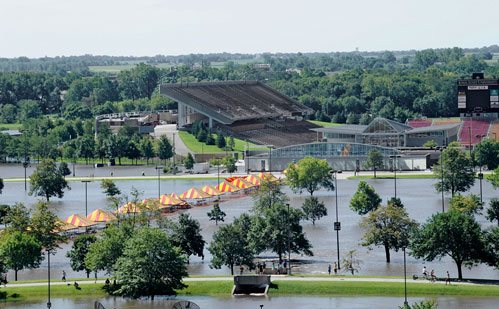 Flood waters inundated the Iowa State Center parking lots on the southeast side of campus the morning of Aug. 11. Photo by Bob Elbert.
Wicked weather
Summer thunderstorms battered numerous campus trees in June and July. A 100-year-old maple near the campanile was no match for winds that rolled through campus on June 6. And severe storms that rumbled through central Iowa on July 18 damaged and uprooted hundreds of trees across campus and at Veenker Memorial Golf Course.
August brought the record-breaking flood of 2010. Three days of torrential rain in Ames caused flash flooding and forced both the Squaw Creek and Skunk River to overflow their banks Aug. 11. The east part of campus -- including Hilton Coliseum, the Scheman Building, the ISU Soccer Complex, the Lied Center, Iowa State Center parking lots, southeast intramural fields and land north and east of Jack Trice Stadium -- were flooded, as was Veenker golf course. Twenty-seven apartments and the childcare center on the south end of University Village also took on about a foot of water. The basement of Stephens Auditorium fell victim to a sewer backup. By the afternoon of Aug. 11, eight water main breaks in Ames made tap water unsafe to drink, and forced residents and ISU to conserve water. University administrators made the call to close campus for one day on Aug. 12. Iowa State continues to deal with flood clean up. Updates are available online.
Summer appointments
Michael Giles Jr., Louisiana State University, to director of recreation services, effective June 1
Nita Lovejoy, associate director, ISU Research Foundation and Office of Intellectual Property and Technology Transfer, to interim director, effective July 2
William Graves, ISU horticulture, to Graduate College associate dean, effective July 15
Andrew Tank, University of Minnesota, Minneapolis, to head men's golf coach, ISU athletics department, effective July
Dawn Bratsch-Prince, associate dean in the College of Liberal Arts and Sciences, to associate provost for academic personnel, effective Aug. 16