Aug. 12, 2010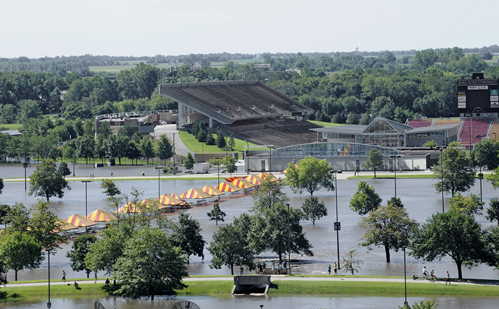 A southerly view of the flooded Iowa State Center parking lots. Photo by Bob Elbert.
East, north parts of campus wake up to water
by Anne Krapfl
Hilton Coliseum and the Scheman Building had about eight feet of creek water standing in them Wednesday morning following a third night of torrential rain in the Ames area and rapid flooding of Squaw Creek overnight. The far east part of campus -- including the soccer complex, the Lied center, Iowa State Center parking lots, southeast intramural fields and land north and east of Jack Trice Stadium -- were flooded, as was Veenker golf course. Five apartments and the childcare center on the south end of University Village also took on about a foot of water. The basement of Stephens fell victim to a sewer backup.
Floodgate holds
The rest of campus largely escaped flood damage, except for a few moist basements around central campus. A ring floodgate constructed east of the Willow residence hall following floods in 1993 succeeded at keeping that residential complex dry. Its parking lots, however, were under water Wednesday.
According to the city of Ames, Squaw Creek at Lincoln Way crested at 18.1 feet at 9:30 a.m. Wednesday, just shy of the 18.5-foot mark set in 1993. By late morning, the water had begun to recede.
Fall move-in on schedule
Vice president for business and finance Warren Madden said the university remains ready for student move-in next week and the start of fall classes Aug. 23 as scheduled.
Let's go to Plan B
The Cyclone volleyball, soccer and football teams were arranging for alternative practice sites, and Destination Iowa State events for incoming freshmen scheduled for the Iowa State Center next week may be moved. Cyclone football players, already at the Jacobson Building for an early morning weight lifting session, helped athletics department staff move as much football equipment as possible to the building's second floor and sandbag at the Jacobson and Olsen buildings. The sandbagging proved successful in preventing floodwater from seeping in.
Getting to campus proved difficult
Iowa State remained open on Wednesday, and employees were advised to use their own judgment about traveling safely to campus and to communicate with their supervisors. Key Ames and Story County roads providing access to campus were closed due to flooding for at least part of the day. The university's severe weather policy is in place, in which employees who aren't able to make it to work may use vacation time, request comp time or take unpaid leave.