Aug. 12, 2010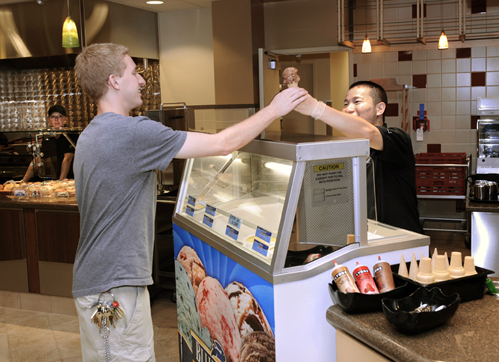 Conversations is the place to go for hand-dipped ice cream. Photos by Bob Elbert.
East side renovated dining center offers morning cafe option
by Anne Krapfl
The familiar meets trendy at Conversations, ISU Dining's latest residential dining center renovation, this time at Oak-Elm hall. Closed for construction since last August, the dining center opens Aug. 17 when the residence halls open for student move-in.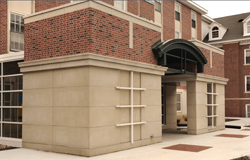 A new south foyer to Oak-Elm Hall includes an elevator that services just the dining level.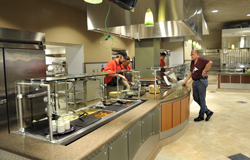 The "Creations" station will feature different made-to-order entries each meal.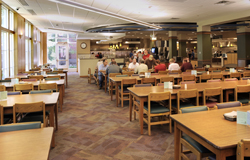 Back by popular demand: the same dining tables and chairs, in the same large configurations.
What's familiar?
The renovation was done within the existing footprint, so the size hasn't changed. At $5.2 million, this renovation is a little more than half the cost of ISU Dining's Seasons dining center at Maple-Willow-Larch just across Beach Road. The same chairs and tables in the dining room are back (350 of 375 chairs), nearly in the same configuration as before -- as requested by the residents of Richardson Court. ISU Dining director Nancy Levandowski said that if a group of students from a certain floor wants to gather for dinner at the same time every evening at the same table -- they shall.
Much of the food preparation equipment was in good shape prior to the renovation and is being used with the addition of new fronts and sneeze guards. A wall of windows overlooking College Creek was replaced with an energy-efficient version.
What's new?
An elevator at a new south entrance to Oak-Elm provides access to the dining room on the ground level. Continuous service runs from 7:30 a.m. to 10 p.m. (more about that later). Four display food stations include a grill, deli sandwiches served New York-style and with a grilled option, a display cooking station with daily selections -- omelets, carved meats or crepes, for example -- and a bakery and coffee station where the dessert options include Blue Bunny brand hand-dipped ice cream. LCD screens above the stations tell guests what their choices are that day.
Conversations manager Mary Ellen Metzger noted that there's more food "serving" in this dining center than in Seasons (Maple-Willow-Larch) or the Marketplace (Union Drive), where diners help themselves to food at most stations. Trayless dining and a dish room that includes a food pulper are part of ISU Dining's commitment to compost food waste from all three dining centers. Restrooms were added off the dining room for the convenience of guests. Conversations also has new plumbing and electrical systems.
14.5 hours of options
Levandowski said ISU Dining is trying a new schedule at Conversations, in response to student demand: continuous service from 7:30 a.m. to 10 p.m. Monday through Friday. From 7:30 to 10 a.m., the site will function as a cafi, with all items priced for individual purchase. The bakery/coffee station will be open and the dining area available for use, though items may be carried out as well. Faculty and staff may pay with cash or the employee charge option on ISU cards. Students with a meal plan who eat breakfast at Conversations will select a breakfast bundle -- a meal in which he or she chooses an entree, two side items and a beverage from a short list of options.
From 10 a.m. to 10 p.m., Conversations switches to a one-price, all-you-care-to-eat format. The bakery/coffee, grill and deli stations will be open continuously. From 10 a.m. to 2 p.m. and again from 5 to 8 p.m. the selection-of-the-day station also will be serving. The price is $9 for either lunch or dinner; employees using the charge plan receive a 10 percent discount.