Aug. 12, 2010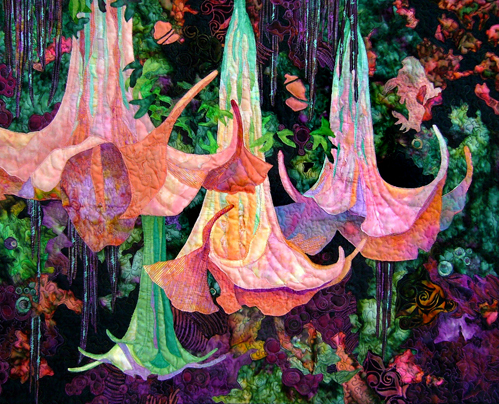 Garden quilts
"Reiman's Angel Trumpets," created by Linda Andeberg of Ankeny, is one of the quilts you can see during Reiman Gardens' Garden Quilt Show, Aug. 13-15. The event will include a juried show of quilts featuring a floral or nature theme, a marketplace offering quilt fabrics and merchandise, speakers and demonstrations for both novice and experienced quilters.
The intent is to encourage the art of quilting and display garden-themed quilts created by Midwesterners. The show runs 9 a.m. to 6 p.m. Friday and Saturday, and 11 a.m. to 6 p.m. Sunday. Quilt show and general garden admission are the same this weekend: free for members, ISU students and children 3 years and younger; daily garden admission for the public ($8 for adults, $4 ages 4-17, $7 ages 65 and above).
A full schedule of events is online. Contributed photo.