Aug. 6, 2010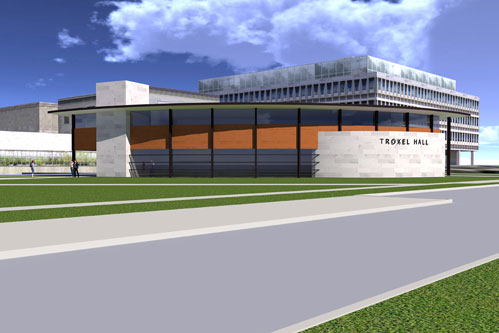 Artist's rendering of Troxel Hall, as viewed from the southeast. Bessey and Horticulture halls are visible behind it. Submitted image.
Troxel Hall proposal gets green light from regents
by Anne Krapfl
Fall semester 2012 will be the anticipated first use of a state-of-the-art teaching auditorium on the east side of campus. The state Board of Regents on Aug. 5 approved the name and gave Iowa State leaders permission to proceed with planning for Troxel Hall, a $10 million building that will contain a 400-seat classroom auditorium.
Troxel Hall will be constructed on the site east of Horticulture Hall and north of the Farm House Museum. It will be named for ISU alumnus Douglas Troxel ('67) of Redwood City, Calif., who founded SERENA Software in 1980 and currently serves as its chairman emeritus. Troxel also serves as president and chief executive officer of a family, non-profit corporation, the Change Happens Foundation. The foundation is making a $5 million gift to the auditorium project. The other $5 million will be covered by income from university treasurer's temporary investments.
Classroom technologies planned for the auditorium include data projectors and monitors, video playback, document cameras, access to both the campus network and the Internet, and other emerging technologies.
In response to an inquiry from regent Robert Downer about infrequent use of large auditoriums, vice president for business and finance Warren Madden said he estimates Troxel Hall might see eight to 10 hours of use per school day. The need is great, he said, for classrooms large enough to accommodate introductory courses, particularly in chemistry, physics and psychology. With enrollments remaining high during a time of reduced state funding for higher education, he said the number of large classes is rising.
More space in the greenhouse
The regents also approved a revised budget and plan for the horticulture department's new greenhouses, which are under construction. An additional $590,000 in private gifts will allow the department to add 2,100 assignable square feet of research space -- roughly a 20 percent increase -- to the greenhouse facility.
Compensation for the president
The board completed FY10 reviews of the three regent university presidents during an Aug. 4 closed session. On Thursday, board members approved compensation changes for the fiscal year that began July 1. At his request, the board approved no change to president Gregory Geoffroy's base salary for FY11 ($423,316, Geoffroy's salary since August 2008). Because Geoffroy took furlough days in both FY09 and FY10, his actual salary has been less than the base figure.
The board also approved a new three-year agreement with Geoffroy that will pay him an additional $125,000 per year in deferred compensation. Since FY06, Geoffroy had an incentive package that pays him an additional $75,000 a year through FY11. The new agreement replaces the last year of this earlier agreement.
In other business, the regents approved Iowa State requests to:
Establish a new bachelor's degree program in industrial design in the College of Design, the first of its kind in the state. Student studio space is proposed to be in the Armory. Other start-up needs include hiring a tenured faculty member to direct the program, a staff member and about $500,000 worth of prototyping and computer equipment (over three years).
Award nearly $1.46 million in state FY11 Grow Iowa Value Funds to ISU units for projects that strengthen economic development in the state. This includes $959,200 for 11 selected projects, and $500,000 shared among the ISU Research Park, Pappajohn Center for Entrepreneurship and Office of the Vice President for Research and Economic Development for infrastructure, coordination and staff support. GIVF funds require a 1:1 match. FY11 is the sixth of 10 years of GIVF approved by Iowa's 2005 Legislature. ISU industry relations director Lisa Lorenzen said Iowa State has funded 65 projects in those six years.
Sell $28.2 million in academic building revenue bonds. Seven bids were received; the winning low bid had an interest rate of 3.966 percent. Proceeds will cover the final financing piece of Hach Hall ($8.7 million) and a portion of the small animal hospital renovation and addition at Veterinary Medicine ($15 million).
Purchase a $3.2 million computer system (customized large-scale virtual reality display and tracking system) for the C6 facility needed to complete projects awarded to ISU by the U.S. Army and U.S. Air Force. The purchase price will be covered by grants from the two agencies.
Sell a 38-acre farm a mile west of Kelley to the Committee for Agricultural Development, a non-profit affiliate of the university, for $280,000. The farm had been used for the student farm management program (Ag450) in the College of Agriculture and Life Sciences, but that program has been moved to land closer to campus.
Proceed to the design phase of a project that will replace university steam lines to the Veterinary Medicine campus and the Jacobson and Olsen athletic buildings with high-efficiency boilers at each location. The project is on a tight timeline because about 30 percent of the $7.6 million cost will be covered with deadline-sensitive ARRA funds received from the Iowa Office of Energy Independence. The remainder will come from ISU utility system repair and improvement funds.