April 15, 2010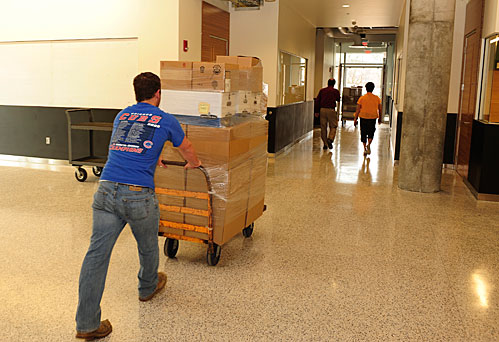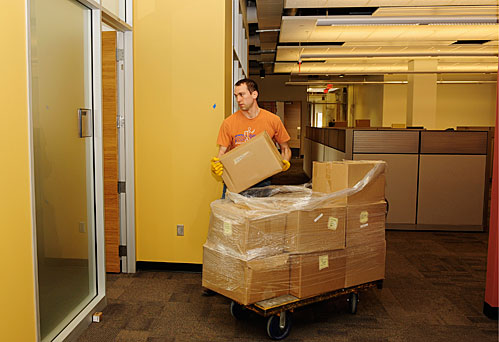 Photos by Bob Elbert.
A new home for the university's biorenewables research
by Anne Krapfl
Move-in is under way at the new $32 million Biorenewables Research Laboratory on the west side of campus. The four-story, 70,000-square-feet facility is the new home of Iowa State's Bioeconomy Institute, including two of its affiliate research centers, the Center for Biorenewable Chemicals and the Biobased Industry Center.
The building includes chemistry and microbiology labs for bench-scale research, two large teaching laboratories, administrative and faculty offices, and graduate student office areas. It also features a two-story "high bay" facility for pilot-scale research projects in thermochemical biomass conversion. About $1 million of the building's cost is for laboratory furnishings and equipment.
People and projects from about a half dozen campus buildings will have state-of-the-art space in the new facility. Academic departments represented are: agronomy; biochemistry, biophysics and molecular biology; chemical and biological engineering; mechanical engineering; agricultural and biosystems engineering; and food science and human nutrition. By the end of May, many of the lab areas will be in use; the high bay and teaching labs will be ready for fall semester.
Iowa State is seeking Gold LEED® certification for the Biorenewables Research Laboratory. Environmentally friendly features include extensive use of natural lighting, building materials made from recycled products, a rainwater collection and storage system, and a vegetated roof on the high bay.
Faculty and staff moving to the new building will keep their university phone numbers. The facility officially will be dedicated on Sept. 17.