April 15, 2010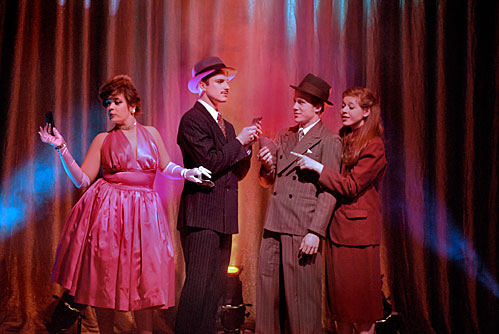 A large cast of actors, singers and dancers are part of Guys and Dolls, this year's Stars Over Veishea production. Photo by Lindsey Van Wyk.
Dancing (and singing) with 'Stars'
by Erin Rosacker
The ISU music and theatre department will present Guys and Dolls for this year's Stars Over Veishea production, April 16 and 17 at Stephens Auditorium. Gamblers, showgirls and gangsters are among the characters in this Tony Award-winning Broadway musical, which starred Marlon Brando, Frank Sinatra and Jean Simmons when it hit the big screen in 1955.
Song and dance numbers accompany the story of high rollers Sky Masterson (junior Steve Goedken) and Nathan Detroit (senior Colin Morgan), and their love interests, Sarah Brown (junior Jocelyn Ascherl) and Miss Adelaide (junior Maddie Welterlen). Set in 1940s New York City, the plot revolves around gambling -- in particular, a bet between Masterson and Detroit. Tomfoolery ensues, including a dinner date in Cuba, a clandestine craps game and the fate of a 14-year engagement.
Brad Dell, an assistant professor of music and director of the play, said Guys and Dolls was a logical choice for Stars Over Veishea. The production boasts a cast of 40 actors, singers and dancers.
"It's one of the big classic productions, with so many great roles for men and women," Dell said. "It's exciting to see that many people on stage and have that much talent up there."
Showtime is 7:30 p.m. both nights. Tickets are $20 ($15 for students), and are available at the Stephens box office or through Ticketmaster.