April 15, 2010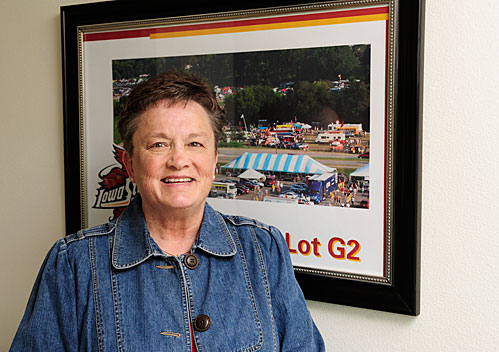 Photo by Bob Elbert.
Marcia Clendenen -- Veishea parade grand marshal
by Annette Hacker
Look at a decades-long list of Veishea parade grand marshals, and you'll see governors, university presidents, inventors, authors, athletes, coaches and Olympians. Even an astronaut. Many are names you'd recognize. This year, the students who organize Veishea decided to honor an everyday hero.
For 33 years, Marcia Clendenen worked in the parking division in the department of public safety. During that time, she mentored and supervised hundreds of students, helped start the ISU HelpVan program (which assists motorist with minor car problems), served on the transportation advisory council, and worked on planning teams for large events such as football games, Special Olympics, the Iowa Games and, of course, Veishea.
Clendenen is a problem solver. Resourceful. Cheerful. Until she retired in January, she always told everyone she had "the best job on campus."
Clendenen was grocery shopping when the Veishea students called her cell phone and asked if she'd be this year's grand marshal in the parade -- and the keynote speaker at closing ceremonies. She tried to talk them out of it, pointing out, "That's for astronauts, VPs, famous alums, people who have donated a lot of money."
But the students told her they'd already decided. They wanted her. She pushed her grocery cart aside and had a good cry. Right there in the Fareway produce department. And then she said yes.
So this year, instead of arriving at 3:30 a.m. to help move floats down Lincoln Way and onto campus, checking to make sure the parade route is clear, or off in the wings helping, Clendenen is going to be riding in the Veishea parade, with her grandchildren walking alongside. Most years, she missed most of the parade because she was working.
"I don't know 'why me?'" she said. "But I'm just so honored that they picked a staff member to be the grand marshal."