Aug. 5, 2010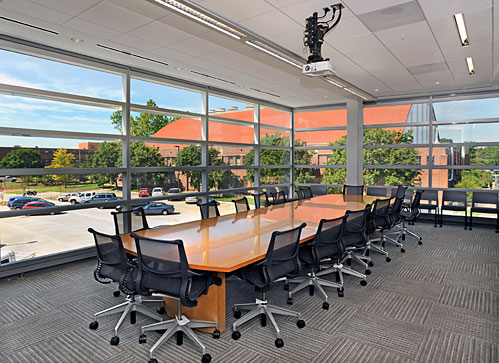 Conference room on the second floor of Hach Hall. Photo by Bob Elbert.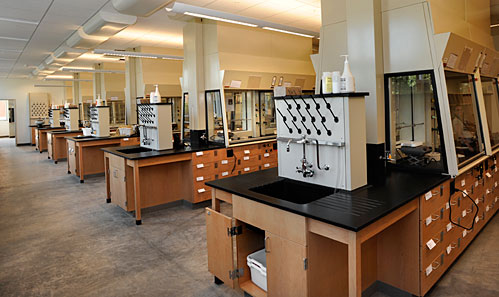 An organic chemistry teaching laboratory on Hach Hall's first floor. Photo by Bob Elbert.
Chemistry department expects big boost from Hach Hall
by Mike Krapfl, News Service
"This facility will allow us to recruit the best students and the best faculty," said Keith Woo, professor and associate chair of chemistry, during a recent tour of the just-completed Hach Hall.
The three-story, $78 million building, which opens when the semester begins Aug. 23, includes teaching labs, research areas, faculty offices and meeting rooms. The department also retains its home base of Gilman Hall, constructed in 1914.
"We are extremely grateful to the state of Iowa, many private donors, the Carver Trust and, of course, the Hach family for providing us the means to construct this outstanding, state-of-the-art facility. Hach Hall is an outstanding facility that not only provides the finest infrastructure for teaching and research, but is also as environmentally friendly as a scientifically intensive building can be."
Jacob Petrich, professor and chair of chemistry
On Hach's main level are two organic chemistry teaching labs, each large enough for 28 students. Just outside the labs are teaching rooms in which teachers and students can discuss experiments. Next door is an instrument room where students have access to sophisticated technology, including nuclear magnetic resonance, infrared and ultraviolet-visible spectrophotometry equipment.
Down the hall are smaller teaching labs for chemistry, biochemistry and chemical engineering majors.
"These facilities will really improve the undergraduate chemistry learning experience," Woo said.
Research programs in analytical and physical chemistry are moving into the Hach basement. The north half of the building will house labs for existing research programs. In the south half, the chemistry department has left a huge cavern unfinished. The space will be reserved for new faculty who will have the option to design their own labs around their instrument and research needs.
The building's nearly identical second and third floors feature faculty offices and large conference rooms at the west end. Down the hall are modular labs for synthetic chemistry research, all with similar layouts and equipment, and designed for four- and six-person research units. About 10 faculty members are scheduled to move in over the fall semester; five or more new faculty will move in as they're hired.
Woo said the building was built with environmentally friendly practices and equipped with low-flow ventilation hoods, heat exchange systems, materials from local sources and many other features that boost efficiencies. The university will pursue LEED certification for Hach from the Green Building Certification Institute.
The building will be formally dedicated on Oct. 8.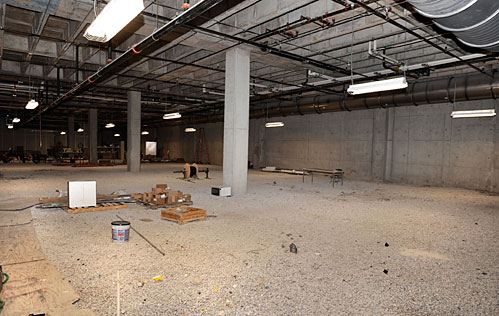 An unfinished half of the Hach Hall basement awaits the specifications of future faculty members. Photo by Bob Elbert.