Aug. 5, 2010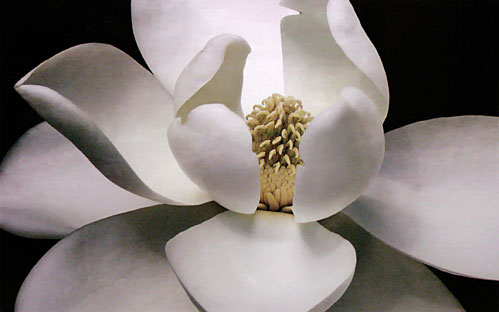 Framed photographs, prints and posters such as this magnolia are available for rent from the Memorial Union. Submitted photo.
Get a new office look, with little cost or commitment
by Erin Rosacker
Is there a blank space or empty nail on your office wall? Tired of looking at the same painting in the conference room? For as low as $12 per semester, you can "rent" a piece of art to freshen up your workspace or your home.
Nearly 175 framed art pieces are available at the annual art lending open house is Aug. 10-11 in the Memorial Union's browsing library (first floor). Although there are some framed posters among the selection, plenty of original art works and prints also are part the collection. Prices range from $12-$25 and can be rented by the semester or by the year. The event is open to the public.
Open house hours are 11 a.m. to 4 p.m. on Tuesday and 10 a.m. to noon on Wednesday. The collection also can be viewed by appointment. Contact fine arts coordinator Letitia Kenemer, 4-0971, or letitia@iastate.edu for more information.
Cash, checks or ISU intramurals are accepted, and proceeds from rentals support art programs at the MU.