Feb. 9, 2011
Revised sports complex plan ready for Feb. 15 public meeting
by Diana Pounds
Responding to concerns expressed by neighbors, Iowa State officials recently revised plans for a new outdoor sports complex in the vicinity of the Towers residence halls.
Public forum
Tuesday, Feb. 15, 7 p.m.
Knapp Storms dining complex
Both the original and current plans call for situating the complex for Cyclone softball, soccer and track and field in the green space east of Wallace and Wilson residence halls. Facilities on the new site will include a track, soccer field, softball stadium and locker rooms.
The latest plan moves those facilities farther south on the green space, putting more distance between the complex and the Storm Street neighborhood to the north. In comparison to the original plan, it also preserves more open space for use by ISU students and local residents.
Neighborhood issues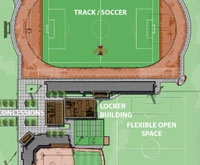 View preliminary site plan schematic.
In a recent meeting with neighborhood representatives, ISU officials said the new plan addresses some of the neighbors' concerns about proper management of storm water, directing site traffic in a way that is less intrusive to neighborhoods and preserving green space.
Vice president for business and finance Warren Madden also told the neighborhood representatives that officials had explored and, ultimately, ruled out a third option of locating the new sports complex in the existing Southwest Athletics Complex, which currently includes softball, baseball and track facilities.
"Developing the new sports complex at that site is substantially more expensive, results in fewer playing fields and requires the relocation of other university activities," Madden said.
Public meeting Feb. 15
ISU officials will discuss the current plan and answer questions during a public forum Tuesday, Feb. 15, at 7 p.m. in the Knapp Storms dining complex. It's the second such meeting on the sports complex. In early December, ISU officials held a forum on the original plan. Neighbors and any other interested community and university members are welcome to attend.
Fields for intramural, club sports
The site of the proposed complex currently is used by ISU recreation services for intramural and club activities such as rugby, soccer, flag football and lacrosse. While green space in the complex will accommodate some of those activities, most will be transferred to the:
Existing Southwest Athletics Complex, which is northwest of the Wallace-Wilson residence halls
Current soccer complex east of the Lied Center.
Financing the complex
The athletics department proposes to pay for the approximately $13 million sports complex with private gifts and debt financing that uses discretionary and other gift revenues. Neither general university support nor new student fees will be sought.