Feb. 10, 2011
Geoffroy: Continued cuts would jeopardize progress
by John McCarroll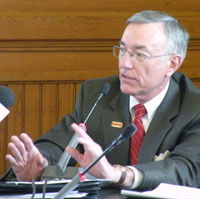 Geoffroy testified to the Legislature's education appropriations subcommittee.
Iowa State president Gregory Geoffroy reaffirmed Iowa State's commitment to its land-grant mission and the people of Iowa, but told legislators that continued budget cuts are jeopardizing the university's progress. Geoffroy testified before the Iowa Legislature's education appropriations subcommittee at the State Capitol Feb. 9. (Geoffroy's remarks.)
Geoffroy said appropriations to Iowa State during the past two years were reduced $62 million, and Gov. Terry Branstad's recommended 6 percent cut in fiscal year 2012 would lower support to ISU by an additional $10 million.
He told legislators that Iowa State's graduation rate is up and its nationally recognized learning communities program is enhancing students' academic success.
"But all of this is put in jeopardy by these budget cuts," he testified. "Overall, we've worked very hard to maintain high quality."
Geoffroy outlined administrative consolidations and efficiency changes over the past two years and noted that faculty and staff members have made sacrifices, including furloughs, no general salary increases and reductions in university retirement contributions.
State Board of Regents president David Miles (see Miles' presentation to the Regents) told the subcommittee that a more prosperous future for the state of Iowa requires an investment in education.