Aug. 18, 2011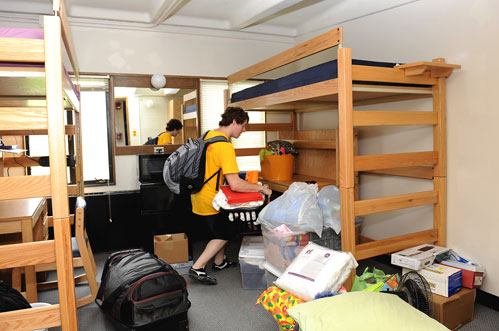 Brandon McWilliams, a member of this summer's volunteer move-in crew, deposits a load in one of the refurbished doubles in Wilson Hall earlier this week. Photo by Bob Elbert.
Residence staff welcome 10,000-plus students to campus this week
by Anne Krapfl
A freshman class that tops 5,000 and high rates of returning students also opting for on-campus housing adds up to a record-setting fall for the residence department. As of last week, director Pete Englin said he has 10,071 housing contracts -- about 7 percent more than last year at this time. The figure includes students living in residence halls (approximately 60 percent of all beds) and campus apartments.
Fall 2011 return rates for last year's residence system students
Sophomores
48%
Juniors
64%
Seniors
90%
Englin said the estimates on prospective residents already were running high most of the spring. But the July-August tradition of housing cancellations outpacing housing requests hasn't happened this year, either.
"We expect to open with only 41 openings -- all in dens -- within the entire residence community," he said. "The housing demand this fall is a testament to the overall student experience Iowa State offers."
He said the department is doing everything it can to provide rooms for students who request them, including converting dens into room spaces. The options were explained to those making late requests and some opted to live off campus this fall, Englin said.
"We believe living on campus greatly enhances their academic success," he said. "We're one of the few Big 12 schools that doesn't require freshmen to live on campus, but if they choose to live with us, we want to give them a great experience.
"Our hall directors, community advisers and custodial staff have a lot to do with that experience," he added. "There's very much a community culture here; the attitude is 'We'll get it done.'"
Full house: Solution one
A few years ago, the residence department converted Wallace (2007) and Wilson (2009) halls to large singles for upperclassmen and dropped the meal contract requirement for students living in the remaining two "Towers" halls. In May, Englin said he made the decision to convert Wilson back to double rooms to accommodate record numbers of freshman requests for campus housing. The department invested $900,000 in 430 sets of new furniture, including microwaves and mini fridges, and renovated all the restrooms this summer.
"We expected both buildings to be full this fall with upperclassmen," Englin said. "We didn't anticipate we'd have 570 freshmen in Wilson."
Meal plans still are optional at the Towers, but in light of the large freshman population, the Knapp-Storms dining complex will serve meals Monday through Thursday. Architects also are in the design phase for up to a dozen cooking stations for student use in the Wallace-Wilson commons.
Full house: Solution two
Englin said the department also temporarily will house about 190 freshmen, two to a room, in residence hall dens this fall. (Den furniture has been stored and bedroom furniture moved in.)
As many as 60 students with residence hall contracts are no-shows at Iowa State each fall, he said. Following the 10th day of class, the process of moving students out of dens and into available room or apartment spots will begin. At the very latest, Englin said, all the dens will be reopened as community spaces at the semester break this winter.
"There will be opportunities to move after that official count day," he said, "but the current thinking is that no one assigned to a den has to move until the semester break."