Aug. 19, 2011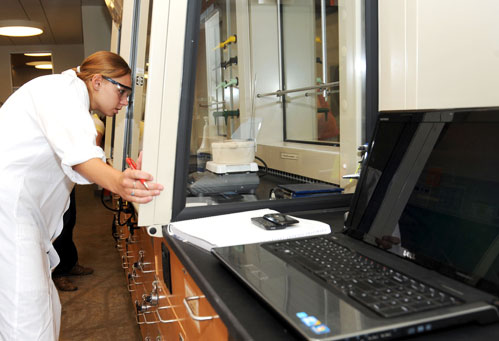 Students have access to the latest technology in Hach Hall, a new chemistry building funded in part by campaign gifts. Photo by Dave Gieseke.
Historic 'Campaign Iowa State' generates $867 million
by Dave Gieseke
The most successful fund-raising effort in Iowa State history -- "Campaign Iowa State: With Pride and Purpose" -- concluded on June 30, 2011, with more than $867 million received in gifts and commitments.
The campaign generated hundreds of new student scholarships and funded thousands of existing scholarship awards; doubled the number of endowed faculty positions, bolstered academic programs, study abroad opportunities and student research programs; and supported more than two dozen building projects.
By the numbers
Donors: 118,742
First-time donors: 37,215
Faculty/staff giving: $37 million
Faculty/staff donors: 4,507
Phone center calls: 12.7 million
Phone center, online, direct mail total: $40 million
Scholarships created: 813
New endowed faculty posts: 85
New named faculty positions: 38
Endowed deanships: 4
New and renovated buildings: 25
Campaign volunteers: 250
"'Campaign Iowa State' has been an enormous success from every standpoint and a true team effort," said president Gregory Geoffroy. "It wasn't a handful of wealthy people who took this campaign over the top; it was a cast of thousands -- people from all walks and stages of life, from students to young alumni to people in their golden years.
"Each gift was important and I'm exceedingly grateful for each and every individual, company, foundation and organization that has helped enrich the Iowa State experience for current and future students, and enhance the lives all Iowa citizens and beyond."
Campaign highlights
Among high points of the campaign:
More than $260 million was directed to student support activities, including the creation of 813 new scholarships. During "Campaign Iowa State," 42,000 scholarship awards totaling $57 million were provided to Iowa State students.
85 new endowed faculty positions were established, more than doubling the number prior to the start of "Campaign Iowa State."
Nearly $285 million was designated to programmatic support for academic colleges, departments, the library, honors program and other initiatives across campus. Campaign funds also enhanced lectureships, study abroad opportunities, student research programs and entrepreneurship programs.
More than two dozen building projects, most of which are completed or in progress, were funded in whole or in part during "Campaign Iowa State."
Generosity benefits generations
"Generations of Iowa State students, faculty and staff will benefit from the generosity of thousands of benefactors to 'Campaign Iowa State,'" said Roger Underwood, alumnus and volunteer chair of "Campaign Iowa State."
"We are grateful for not only the financial support of our donors, but also for the confidence they exhibit in Iowa State's ability to enhance lives," said Dan Saftig, president of the ISU Foundation. "On behalf of the volunteers and staff of the ISU Foundation, I offer my deep appreciation to everyone who helped make this campaign an overwhelming success."
Campaign counting began July 2003. A goal of $800 million was announced in October 2007 when Campaign Iowa State was introduced to the public.
Breakdown, by areas and units
Areas
Program
$283,848,611
Student
$261,610,003
Faculty
$182,395,654
Facility
$139,596,201
Units
Ag & Life Sciences
$127.4 million
Alumni Association
$ 13.4 million
Athletics
$ 86.9 million
Business
$ 47.0 million
Design
$ 10.1 million
Engineering
$134.0 million
Extension
$ 9.8 million
Human Sciences
$ 35.0 million
LAS
$ 71.6 million
Library
$ 6.3 million
Reiman Gardens
$ 5.2 million
Student Affairs
$ 50.1 million
University Museums
$ 5.4 million
Vet Med
$ 46.3 million
Other*
$218.5 million

*Includes a $141 million gift-in-kind.