Aug. 18, 2011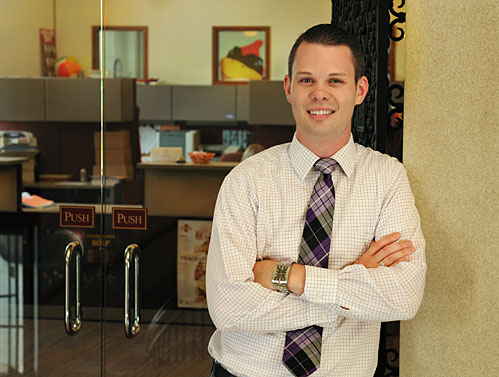 Five questions for Kyle Holtman
by Paula Van Brocklin
The Basics
Name: Kyle Holtman
Position: Coordinator, Destination Iowa State
Years at ISU: Nearly one
Education: University of Iowa (bachelor's, 2007), Iowa State University (master's, 2010)
Destination Iowa State is a three-day welcome event for new students just prior to the start of fall semester. Holtman makes sure that about 375 student team leaders and numerous university organizations work together to create an educational, entertaining and welcoming atmosphere for more than 4,000 new students expected to attend Destination Iowa State, Aug. 18-20.
What's the purpose of Destination Iowa State?
It's really to introduce the students to the resources available at Iowa State, to help them find out about opportunities and to make them feel welcome in their new home away from home.
How do you attempt to take a large university and break it down for each individual?
One of the biggest parts of Destination Iowa State is creating connections. We put students on teams with an upper-level student leader. There are about 15 students on each team, and we put them into groups based on their housing assignment. So, students living in Martin and Eaton residence halls would have a team leader who has lived there before. We also put off-campus students in the same group, and transfers are together -- no matter where they are living.
Speaking of transfer students, what does Destination Iowa State offer them?
We added a session last year called "TRANSFERmation." We wanted to engage transfer students and really build a session with information that directly related to the questions they have. Later, we did a focus group with transfer students who had been through the session. They had positive things to say about it.
Are new students required to participate in Destination Iowa State?
No. I think that goes along with allowing students to customize their experience. But we do have a good participation rate. For last year's entering class (fall 2010), we had a 64 percent participation rate among all new students. The freshman participation rate was 78 percent.
What's a high moment for you?
On the first evening, everyone's in Hilton with the president, vice president [Tom] Hill and Jeff Johnson of the alumni association. The Destination Iowa State T-shirt we give students has the words to the fight song on the back. So they stand and, staring at the back of the person ahead of them, learn the words of the fight song. So, to be in the front row, you have to know the fight song. It's really high-energy, and I think the students leave that night feeling excited and that they chose the right place to be.