April 8, 2010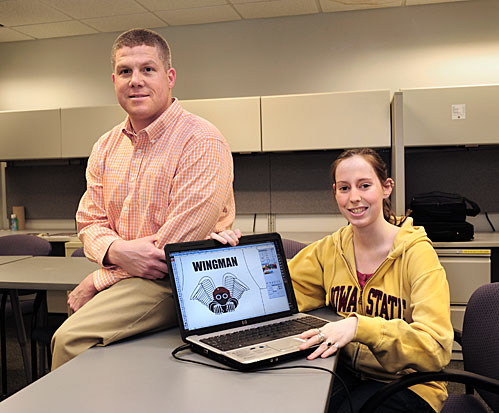 Sgt. Elliott Florer and graphic design student Miranda Myhre are key collaborators in the "Wingman" campaign, which encourages students to party safely. Photo by Bob Elbert.
Safe spring fling is the goal
by Diana Pounds
"The cops gave me the bird."
"Don't be that guy."
"Wingman: Spring into action."
These campaign slogans, which sprout on the ISU campus every spring, may not exude Madison Avenue chic. Then again, they aren't the work of ad agencies selling goods. They're the work of ISU students and local police selling safety.
The campaigns encourage students to party safely during the spring and, particularly, during Iowa State's Veishea celebration, April 12-18.
While the ISU and Ames police provide assistance and funding, the campaigns are "by the students and for the students," said ISU police sergeant Elliott Florer.
Student focus groups provide input about campaign themes that will resonate with their peers. Graphic design senior Miranda Myhre created the art work for the past two campaigns.
This year's campaign theme, "Wingman: Spring into Action," encourages students to take care of each other -- to intervene, for example, if it appears that friends are going to do something foolish.
While slogans change from year to year ("The cops gave me the bird" campaign featured Frank the Flamingo and "Don't be that guy" focused on a boorish partier), campaign elements are similar. Police make presentations to numerous student groups, students receive T-shirts and other giveaways, and campaign ads are included in the Iowa State Daily.
"The campaigns reinforce and reward good behavior," Florer said. "Our biggest concern is the safety of students. We want Veishea to be both fun and safe."