April 8, 2010
A first look at Veishea 2010
by Paula Van Brocklin
A sure sign of spring at Iowa State is the annual Veishea celebration. This year's festivities, with the theme "Today's Vision, Tomorrow's Tradition," officially kick off April 12 and run through April 18. But there are plenty of activities taking place ahead of the main events next weekend. Here's a look at what's happening April 8-14. Next week's Inside Iowa State will preview events planned for April 15-18.
Awards ceremony
The Student Activities Center and Veishea will recognize outstanding contributions by student organizations, their officers and advisers during a ceremony April 13 (7 p.m., MU Sun Room).
Lunch plans?
Stop by the West Student Office Space, ground floor of the Memorial Union, to purchase a $5 button for the campus barbecues April 13-16 (11 a.m.-2 p.m., central campus). The College of Liberal Arts and Sciences, the College of Human Sciences and the Graduate College are sponsoring the first barbecue April 13, featuring a menu of hamburgers/veggie burgers, apples, cookies and lemonade. The College of Engineering takes the reins April 14, serving up chicken sandwiches/veggie burgers, applesauce, granola bars and lemonade.
Free fun for all
Veishea week features several free events, including two lectures related to the entertainment industry. Jeff Katz, studio executive, producer and comic book author, will present "The Business of Geek: Film, Comic Books and Gaming" on Monday, April 12 (8 p.m., Great Hall, MU). He'll talk about how the entertainment industry has evolved, and the new opportunities for "geek" creators in the film, comic book, internet, gaming and online self-promotion industries.
Novelist, screenwriter and film director Peter Hedges will discuss his writing and directing experiences Wednesday, April 14 (7 p.m., Sun Room, MU). The Iowa native wrote the What's Eating Gilbert Grape novel and screenplay, and was the writer-director of Pieces of April and Dan in Real Life, among other films.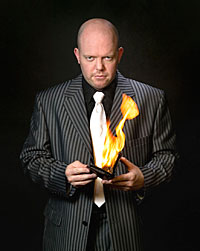 Hypnotist Brian Imbus. Submitted photo.
Hypnotist Brian Imbus takes the stage Wednesday, April 14, (9 p.m., Great Hall, MU) for another free performance. Imbus' mind-boggling shows of hypnotism and mentalism make him one of the nation's most requested university entertainers.
Local talent is showcased in the third round of the Cyclone Idol preliminaries on Thursday, April 8 (5 p.m., M-Shop, MU); Veishea Says I'm Funny on Tuesday, April 13 (9 p.m., M-Shop with live streaming to the Great Hall, MU); and the first of two Battle of the Bands wildcard shows on Wednesday, April 14 (5 p.m., M-Shop).
The Human Race Machine is a unique addition to this year's Veishea entertainment lineup. Similar to a photo booth, the machine can show individuals how they would look if they were a different race. The machine is open April 12-17 (9 a.m.-9 p.m.; 9 a.m.-midnight Friday and Saturday, Main Lounge, MU). There is no cost to participate.
Tournament time
For those who would rather be part of the action, Veishea offers a plethora of sports tournaments. From flag football, to laser tag, to trap and skeet, there is a full lineup of events. Anyone can participate, including students, faculty, staff, alumni and community members. All also are invited to enjoy the action from the sidelines. More information, including dates, times, registration forms and fees, is online.