April 8, 2010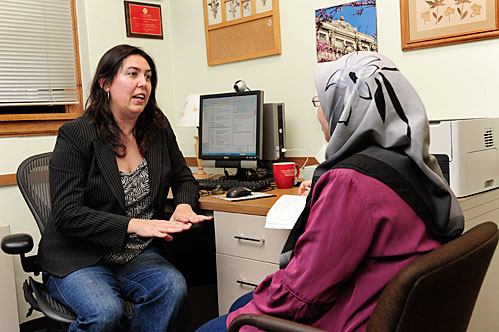 Assistant professor Ana-Paula Correia (left) confers with graduate student Farrah Yusop on the instructional design model. Photo by Bob Elbert.
Correia champions instructional design service learning
by Mike Ferlazzo, News Service
Ana-Paula Correia never imagined herself lying on the ground, firing a weapon at a target as part of a military training exercise. But that's one thing the assistant professor of curriculum and instruction did last fall when students in her evaluating digital learning environments class assessed the effectiveness of simulated and actual war-training exercises for the Iowa National Guard.
As part of their evaluation, Correia and her students tested the marksmanship simulation program, "Engagement Skills Trainer 2000," during one of their visits to Camp Dodge in Johnston. They assessed the program to see if the war-like simulation exercises were beneficial to soldiers before they engaged in actual shooting practice.
The shooting simulation was a new and real experience for the students. And Correia sees those experiences as the best way for students to put classroom theory into practice.
That's why two of Correia's graduate classes each took on four new projects this semester. And she interacts with even more clients through Learning Design Solutions -- a student-run consulting enterprise that grew out of her advanced instructional design class. Correia found that there were more potential clients in need of instructional design help than her students could provide during a semester. The group provides that assistance at a fraction of commercial consulting prices.
Correia says there are never enough of these experiences for her students. "This is about educating instruction designers, since instructional design is an applied field," she said. "They're professionals who go into a situation and help organizations solve problems associated with people -- performance problems, instructional problems, educational issues.
"I want students to learn all the theoretical approaches and models, and then have a chance to try them out," she said. "That's because much of the literature talks about how instructional designers often don't follow any models because they (designers) are limited by the constraints of reality."
Learning in the community
Correia is committed to community service through her classes. And she doesn't see it as simply joining the growing service-learning trend. "An instructional designer and educator needs to be concerned about the community," she said. "For me, it's just a natural part of being an educator. I didn't consciously plan to do these service learning projects."
In addition to the Iowa National Guard, Correia and her students have worked with the Story County Emergency Management Agency to design a tornado safety tutorial, and Iowa State's department of public safety to create a winter weather awareness tutorial. Their current projects include creating a new distance education plan for the university's Osher Lifelong Learning Institute.
Going global
Correia's service learning approach also may soon extend beyond the U.S. border. She is collaborating with instructional technology faculty at the University of Saskatchewan, Canada, on a project that could expand her model on educating instructional designers north of the border. And since Iowa State's curriculum and instruction technology graduate program is attracting a growing number of international students, it may be exported overseas too.
"One of my students (Farrah Yusop) is going back to Malaysia this summer after she graduates, and she's going to start this model at the University of Malaya, where she'll be working," said Correia, who originally is from Portugal. "And next year, we will use Skype to collaborate on research about the implementation of this model at three university sites [Iowa State, Saskatchewan and Malaya]."