Aug. 27, 2009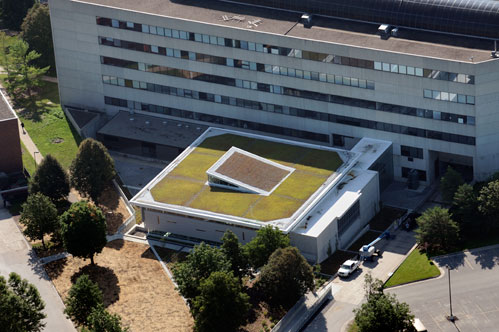 King Pavilion's green roof. Photos by Bob Elbert.
Summer, in short
by Paula Van Brocklin
Summer passed by quickly, but there was plenty of activity on campus. If you've been out of touch with Iowa State happenings since mid-May, here's a brief recap.
Leaders of the pack
On July 1, Luis Rico-Gutierrez and Jonathan Wickert started their new positions as deans of the colleges of Design and Engineering, respectively. Earlier this spring, Pam White was named dean of the College of Human Sciences. After serving as the college's interim dean, she took over the position permanently April 16.
Rico-Gutierrez came to Iowa State from Carnegie Mellon University, Pittsburgh, where he served as associate dean of the College of Fine Arts and directed the Remaking Cities Institute. Wickert joined the ISU Engineering faculty in 2007 as chair of the mechanical engineering department and the Larry and Pam Pithan Professor of Mechanical Engineering. Previously, he was a faculty member at Carnegie Mellon.
Building completions
Snedecor
After a 16-month renovation, Snedecor Hall welcomed back the statistics department in early May. The building's dark, dated interior was replaced with modern computer labs, classrooms, conference rooms and restrooms. The building also has a new roof, elevator, windows and utility systems. Snedecor was rededicated June 3 during a three-day event celebrating the 75th anniversary of the Statistical Laboratory.
King Pavilion
College of Design students started classes Aug. 24 with nearly 24,000 gross square feet of new studio design space. The King Pavilion, completed in June, features a central, two-story "forum" surrounded by instructional studios. Crews used numerous green and energy-saving features in its construction, including a living roof seeded with 20 varieties of plants. ISU will seek top LEED certification for the building through the U.S. Green Building Council's Leadership in Energy and Environmental Design.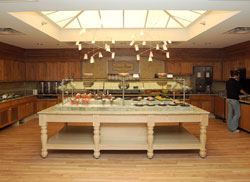 Seasons Marketplace
Seasons Marketplace
The newly remodeled Maple-Willow-Larch dining center -- Seasons Marketplace -- opened Aug. 18. Unlike college cafeterias of yesteryear, this facility features six unique food stations, and a trayless approach to reduce waste. Anything that is leftover, including paper products and packaging, is sent to a pulper and then composted.
Opting for retirement
The deadline for eligible employees to participate in the university's retirement incentive option (RIO) was June 30. A total of 210 employees received approval, including 99 professional and scientific staff, 95 merit staff and 16 faculty. About 35 percent of the approved applications came from Extension employees.
Stepping up
By the end of June, 401 ISU employees had volunteered to help the university offset a 1.5 percent ($4.25 million) reversion in state funding for FY2009. Of that group, 297 chose voluntary leave without pay, including 28 high-level administrators and four athletics department leaders, for a savings of $505,208. Another 104 employees donated $97,333 toward the reversion through the ISU Foundation. Combined, employees helped ISU save $602,541.
Plans for stimulus funds
The state Board of Regents approved Iowa State's FY2010 operating budget Aug. 6, which is $16.3 million (3 percent) less than last year's budget. Decreases in state funding ($38.3 million) and investment income ($1.2 million) account for most of the loss, countered by increases in tuition and fees ($22.5 million) and indirect cost recovery income on research funds ($0.6 million). To help offset the reduction, Iowa State will use $31.6 million in one-time federal stimulus funds to help bridge the gap between FY2010 and FY2011.
Last summer commencement
A total of 762 students earned degrees in a single ceremony Aug. 8 at Hilton Coliseum, marking Iowa State's final summer commencement. The event is being eliminated due to budget constraints and declining interest among students. Going forward, students will have the opportunity to attend the spring commencement prior to summer term, or attend the fall ceremony in December.
To hire or not to hire
Criminal background checks are now part of Iowa State's hiring process. Since July 1, human resource services requires checks on criminal history, credit history (for certain positions involving cash and financial assets) and verification of academic credentials and references for most new positions. At this time, student employees, post-docs, temporary employees, and faculty and staff changing positions within the university do not require a criminal background check.
Students get CyMail
Iowa State rolled out a new e-mail service for students Aug. 4 called "CyMail," powered by Google. New students were the first to get the service, and current students are transitioning to the new system. Student e-mail addresses have not changed. CyMail is not available to faculty and staff, though IT officials will explore the possibility of offering it.
Free pass
CyRide waived all fares for three months this summer to encourage residents to consider a "greener" mode of transportation, and to learn the benefits of public transportation. As a result, CyRide transported 113,320 more riders -- a 26.7 percent increase -- between May 15 and Aug. 15 compared to the same period last year. CyRide's board will meet in September to discuss the possibility of future programs.