Aug. 27, 2009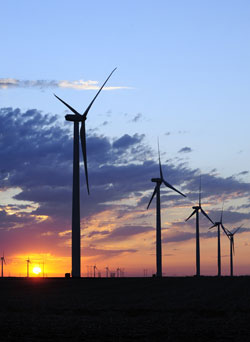 Ames and ISU officials are considering buying wind-generated energy from NextEra Energy Resources, which is building a second wind farm in the area. Photo by Bob Elbert.
Ames, ISU consider contracting for wind energy
by Diana Pounds
A wind farm in central Iowa may soon help power lights, appliances and other equipment at Ames and Iowa State University. City and university officials propose buying wind energy from NextEra Energy Resources, the top generator of wind power in North America.
The Ames City Council will consider a motion to approve a contract to purchase wind-generated electricity on behalf of the city and Iowa State at its Sept. 8 meeting. If the council and State Board of Regents approve, Ames and ISU could be using wind power by January 2010.
Under the proposed contract, the city and university each would buy enough wind power to supply approximately 10 percent of their electricity needs.
100-turbine farm under construction
The power would come from a 100-turbine wind farm under construction north of Zearing. It's the second such farm that NextEra has built in the area and the firm's eighth wind farm in Iowa.
Ames and Iowa State propose to purchase a portion of the 150-megawatt output of the new farm. Ames would buy 30 megawatts of the output and Iowa State, six megawatts.
"As the City of Ames continues to explore alternative energy, we are excited by this partnership opportunity with NextEra to purchase wind-generated power," said Donald Kom, director of Ames Electric Services. "In the 1970s, the City of Ames constructed the first municipally operated waste-to-energy facility in the nation and began using garbage for fuel. Wind power continues this community's commitment to expanding our use of renewable energies."
ISU assistant director of utilities Jeff Witt said adding wind power to Iowa State's energy lineup is an important step toward making the university a model of energy efficiency.
"While Iowa State's power plant is a very efficient coal-burning plant, our power generation is still based on a nonrenewable resource," Witt said. "We are very committed to greater sustainability at Iowa State and are looking forward to using wind power to help meet our energy needs."
Taking advantage of windy days
Ames and university officials said wind-generated energy will present some new challenges to utility staff, who must constantly balance wind conditions with electricity needs. On windy days, they'll need to back off other sources of energy and take advantage of the wind-powered energy coming in. On still days, staff must increase energy output from nonrenewable sources.
The city and university have been partnering to buy electricity since the early 1990s. The partners began looking for a renewable energy source in 2007 and subsequently reviewed proposals from companies that generate energy from wind, biomass and the sun. Officials chose to pursue the NextEra proposal. The contract, as currently proposed, would be for 20 years.