Aug. 27, 2009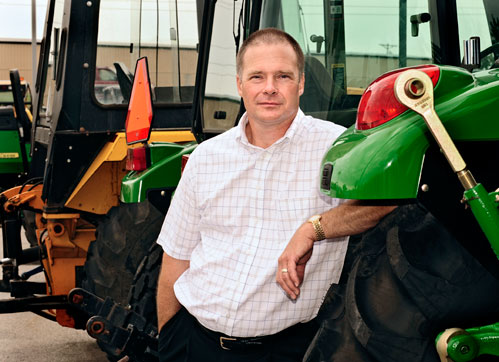 Danny Johnson, a diesel mechanic turned university professor, is a firm believer in -- and poster child for -- lifelong learning. Photo by Bob Elbert.
Johnson keeps his engine running in academe
by Mike Ferlazzo, News Service
Danny Johnson truly enjoys teaching students all about manufacturing. But the associate professor of operations and supply chain management says the greatest lesson he impresses upon students is to keep learning because of the turns life may take.
Johnson would know, as a John Deere mechanic turned professor.
"You know, 25 years ago, if anybody would have said that I'd be sitting here as a professor, they would have been laughed right out of the room," said Johnson, who is in his 12th year on the College of Business faculty. "That was the last thing on my mind."
Early career track
Johnson grew up on a farm in northwest North Dakota that also featured a repair shop, and he worked on tractors, trucks, lawn mowers, automobiles and a wide variety of things from the time he was 13. After high school, he took two years of diesel mechanic training, which landed him a job at a company-owned John Deere dealership in Fargo, N.D.
"I spent seven years as a diesel mechanic before a back injury put an end to that career and I went back to school to do something else," he said.
"You know, 25 years ago, if anybody would have said that I'd be sitting here as a professor, they would have been laughed right out of the room."
-- Danny Johnson
Academics were an acquired taste for Johnson. He initially enrolled in a program at Minnesota State University Moorhead, where he took classes at night and on weekends -- doing accounting work at the John Deere dealership during the day. He did that for about a year, until the farm crisis of the late 1980s hit and John Deere put all its company-owned stores up for sale.
"When the new owner came in, I just decided it was time to cut my losses, and I went back to school full time," Johnson said.
Second career path
Johnson finished his business administration bachelor's degree in about two-and-a-half years, and then received career advice that ultimately changed his life.
"When I was interviewing for jobs, once I told the recruiters what I'd like to do, they all said, 'You know, you really need to get your MBA,'" he said. "So I started looking at programs and I ended up going to the University of Wisconsin at Madison to do my MBA with a specialization in operations management."
While earning his MBA, Johnson became interested in a career in teaching and research. So with the support of his wife, Madonna, and their two children, he stayed in Madison to also earn his doctorate in 1998.
He joined Iowa State's College of Business faculty the same year.
"So ultimately the back injury -- even though it required a very long time period to go back to school -- was probably a good thing to happen because it forced me to do something different," Johnson said. "If that hadn't happened, I likely would have continued on another 10 years as I was. And then I really would have been in a tough situation trying to go back to school to do the things I ultimately did."
Johnson never saw himself becoming a college professor when he was growing up. Now he can't see himself doing anything else.
But he still finds some time to get dirty under the hoods of his own vehicles. Johnson is one professor who proudly does his own mechanical maintenance.