Dec. 15, 2011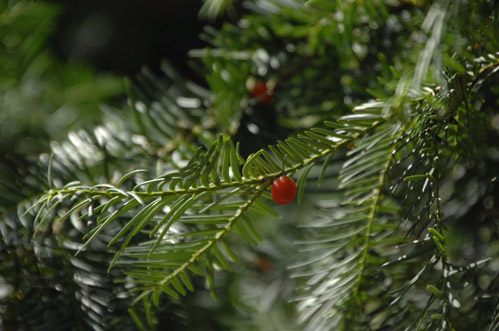 Seasonal foliage near Lagomarcino Hall. Photo by Barb McBreen.
Time to make winter break preparations
by Paula Van Brocklin
Winter break is fast approaching, which means staff in departments across campus need to decide whether they will be open, closed or something in-between Dec. 23 through Jan. 2.
In September, university officials approved a partial shutdown of campus during winter break. This period includes three university holidays (Dec. 23, 26 and Jan. 2), four weekend days and four work days (Dec. 27-30). Employees who choose not to work Dec. 27-30 may use vacation time or take unpaid leave. The partial shutdown is optional; the university is not requiring departments to close.
Building supervisors should contact Bob Currie in facilities planning and management (FPM) by Dec. 22 to indicate whether a building will be closed or to request a temperature setback.
If your department or building will be shut down during break, remember these tips to keep your office safe and energy-efficient.
Don't just turn off the lights
Shut down all computers, printers and other accessories. Leave your office computer on if you need remote access from home, but power off the monitor, printer, speakers, etc. A computer's sleep mode uses less energy than full power, but information technology services guidelines recommend shutting down computers completely to protect data. A machine may be left on during break if it's providing access to a critical application. If possible, plug computers and printers into a power strip and then shut off the power strip before you leave.
Turn off and unplug copiers.
Shut off and unplug small appliances, like coffeepots.
Unplug all chargers for cell phones, MP3 players and similar devices.
Check faucets in bathrooms and break rooms to make sure they are completely turned off and not dripping. If you notice a dripping faucet, contact the FPM Service Center, 4-5100.
If you can manually adjust the thermostat in your office, turn it down to 65 degrees.
Close fume hood sashes completely or open them only minimally.
Shut down unnecessary climate-controlled plant growth chambers.
Shut down cooling water systems to eliminate potential flooding issues.
Remember to turn off your office lights and as much public lighting (hallways, bathrooms, conference rooms) as possible before you leave.
Check windows to make sure they're shut tight.
Communication is key
If your department is closing over break, discuss how to handle incoming phone calls. One option is to direct all departmental calls to one voicemail box to be checked periodically by designated employees during the break. Employees also should change their personal voicemail and email messages. Consider stating the dates you will be absent, and if you'll be checking your voicemail or email messages. If necessary, include an off-campus number where you can be reached. Also consider putting your department's holiday hours on your unit's web page.
Wear your boots
Facilities planning and management crews will work reduced hours during the partial shutdown. From Dec. 23 to Jan. 3, snow removal will be limited, which means parking lots and building entrances may not be plowed by 8 a.m. FPM staff also will not plow lots or sweep sidewalks for less than 2 inches of snow outside of weekday business hours (Monday through Friday, 7 a.m. to 4 p.m.).