Dec. 15, 2011
More than 1,600 completed degrees this fall
by Anne Krapfl
An anticipated 1,650 students completing an Iowa State University degree this semester will be honored during a single commencement ceremony Saturday, Dec. 17, in Hilton Coliseum. And about 10 percent -- approximately 85 -- of those students who finished their degrees during summer session elected to join them at the 2 p.m. ceremony. Tickets are not required.
As of Dec. 12, 1,250 students are expected to complete bachelor's degrees this semester. An estimated 262 master's candidates and 108 doctoral candidates also will graduate this weekend.
The commencement ceremony will be Gregory Geoffroy's final one as president of the university.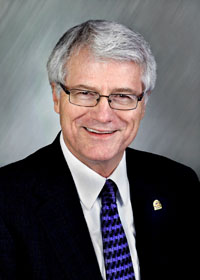 Honorary degree recipient Ben Allen. Contributed photo.
Honorary degree
Former Iowa State faculty member, Business dean and provost Ben Allen will receive a Doctor of Humane Letters from the university for excellence in educational leadership and for scholarly contributions to the field of transportation and logistics. Since 2006, Allen has served as president of the University of Northern Iowa, Cedar Falls. He will give the commencement address.
Allen joined the Iowa State faculty in 1979 and became chair of the department of transportation and logistics in 1984. In 1988, he and a colleague from the University of Iowa established the Midwest Transportation Center at ISU; Allen directed that center for two years. He was appointed interim dean of the College of Business in 1994 and dean in 1995, where he served until 2001. He was named interim vice president for external affairs in 2001-02 and served as vice president for academic affairs and provost from 2002 to 2006.
In addition to his exceptional career in academic administration, Allen is a nationally recognized researcher and educator in transportation and logistics, particularly in the areas of regulator reform, deregulation and public transportation policy. In 1988, he was named Iowa State's first Distinguished Professor in Business.
College events, reception
Iowa State's colleges also will honor their graduating students during separate receptions or convocations Dec. 16 and 17. A complete list of graduation events is available on the registrar's website. All graduates and their families are invited to a free reception at the alumni center, 420 Beach Ave., following the ceremony and continuing for about two hours.