Dec. 15, 2011
VanDerZanden named CELT director
by Erin Rosacker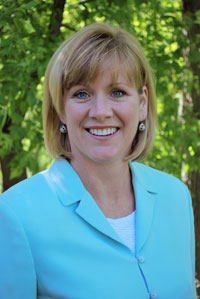 Ann Marie VanDerZanden. Photo by Cindy Haynes.
Horticulture professor Ann Marie VanDerZanden has been named director of the Center for Excellence in Learning and Teaching (CELT). VanDerZanden, associate director of CELT and its interim director since Aug. 1, also will serve as co-director of the learning communities program with Doug Gruenewald, program manager in student affairs.
"Dr. VanDerZanden's strong background and personal contributions to enhanced student learning -- coupled with her enthusiasm and passion for leading and nurturing innovation in teaching and learning -- will enable her to provide creative and effective leadership to both the Center for Excellence in Learning and Teaching and learning communities," said David Holger, associate provost. "I am delighted that she has accepted this important leadership position, and look forward to collaborating with her to enhance the learning experiences and success of our students."
VanDerZanden came to Iowa State in 2003 after serving six years at Oregon State University. She earned horticulture degrees from Washington State University (B.S., 1988; Ph.D., 1994) and Cornell University (M.S., 1990), and also held positions at Illinois State University (assistant professor) and the University of Illinois (Extension horticulture specialist).
VanDerZanden replaces Steve Mickelson, who left the post to become chair of the agricultural and biosystems engineering department. She will assume her duties on Jan. 3.