Dec. 15, 2011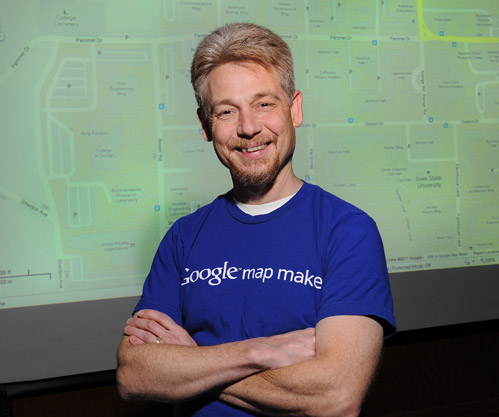 Map maker and cam master John Hoffman. Photo by Bob Elbert.
Five questions for John Hoffman
by Diana Pounds
He puts Iowa State on the map, literally, and recently got a prestigious nod from Google for his map-making contributions. He's also the man behind several webcams peeking in on campus activities. Facilities planning and management's John Hoffman helps people get around -- and look around -- the university.
Google recently named you one of the top map makers in the country. What did you do to receive this honor?
Using the Google Map Maker tool, I've been adding buildings, streets, parking lots and sidewalks to the ISU campus as it appears on Google maps. I've posted about 1,700 objects on the map thus far.
The basics
Name: John Hoffman
Position: Web technologist, facilities planning and management
Years at ISU: 23
Education: Bachelor's in computer engineering, Iowa State, 1982
Doesn't Google maps already have these features on the satellite view?
Yes, most of them, but I am able to put some rich data behind the map feature. All of the buildings I have drawn contain a link to the web page for that building. And satellite views can be several years old. For example, our Biorenewables Research Laboratory and the Lloyd Center in the Vet Med complex were missing until I drew them in. Satellite views also may be distorted because satellites aren't always directly overhead or because trees or roof lines overhang buildings' actual ground-level footprints. I redraw the buildings to correct for that.
So, can I get on Google and map my neighborhood?
You can. Google's theory is that local people know local geography. Anyone can use Google Map Maker to offer edits. But there's an extensive review process to get your changes through the system. I've done enough edits to build up credibility with Google reviewers, and my edits usually get a smoother path through the review process.
Iowa State already has an online map. Why bother with Google maps?
Our online map works great on full-sized computers, but not so well on mobile devices. Google is scalable to these smaller devices and, more importantly, it's very popular. People are going to Google when they think of maps, and Google continues to add features to its map engine to make it better. The next version of ISU's online map likely will use Google's map, overlaid with the data that we currently have on such things as accessibility, bike routes, recycling areas and emergency phones.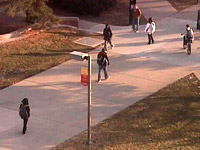 You also manage campus webcams. Do you have a sense of who's watching?
Our construction cameras are primarily for the benefit of project and construction managers, who use them to monitor several projects from their offices or smart phones. These construction sites often are of great interest to the public, though. The camera we had on the new football scoreboard was so popular that I had to set up a dedicated video server for that one camera.
Our cams atop Memorial Union and Parks Library, allow the general public to peek in on campus life and can be controlled by anyone watching. (Everyone gets a turn at controlling the camera for two minutes at a time.) These are very popular with alumni and parents alike. I've had email conversations with people from all over who enjoy using those cameras to connect with their children or memories.