Oct. 27, 2011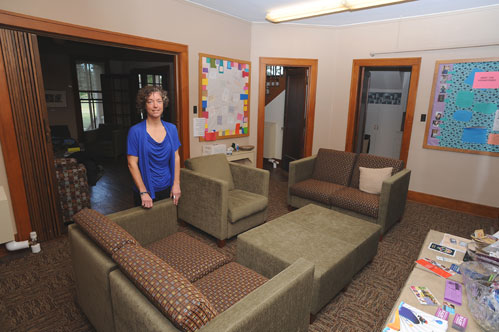 Chris Fowler, interim director of the Margaret Sloss Women's Center, stands in the recently renovated Sloss House, where the center has resided since 1981. Photo by Bob Elbert.
Margaret Sloss Women's Center celebrates 30th anniversary
by Paula Van Brocklin
'Her' story lesson
The Margaret Sloss Women's Center is named for Margaret Wragg Sloss (1901-79), the first woman to gain admission to and graduate (1923) from the ISU College of Veterinary Medicine. The Sloss House is named for Margaret's father, Thomas, who lived in the house with his family from 1924 to 1937 while he worked as the university's groundskeeper. The women's center moved into the first floor of the Sloss House in 1981 and has occupied the entire building since 1986. The 128-year-old Sloss House recently received a facelift, including new carpet, paint, roof, gutters and furnishings.
Grassroots efforts at Iowa State during the 1960s and 1970s to create a support network for women came to fruition in 1981 with the establishment of the Margaret Sloss Women's Center. This year, the women's center celebrates 30 years of service and seeks to reexamine how it can best support all women on campus, including students, faculty and staff.
Programs, then and now
For the past 30 years, the women's center has evolved from helping develop female faculty and staff to assisting students through programs, counseling, access to resources and providing a quiet place to study, all in the historic Sloss House (south of Curtiss Hall). Today's programming runs the gamut, from casual arts and crafts sessions to collaborative programs with women's studies groups and the Lesbian Gay Bisexual Transgender Student Services (LGBTSS) office.
The center holds annual campus-wide events that raise awareness about domestic violence (October), stalking (January) and sexual assault (April). Each February, the center plans The Vagina Monologues to raise money for ACCESS (Assault Care Center Extending Shelter and Support) in Ames.
Diverse needs
Interim director Chris Fowler said every day is different, depending on who calls or walks through the front door. She and her staff -- interim assistant director Som Mongtin and graduate students Dustin Neff and Christine Peterson -- often become counselors, assisting students who need access to resources or just someone to talk to. It's an important role, Fowler said, one that needs to continue.
"There always will be a need for a women's center," Fowler said. "There always will be issues of gender and inequality."
Fowler cites statistics that show the percentage of female undergraduate students, faculty and department chairs at Iowa State are lower than the national average. But on a positive note, she said women hold 41 percent of director or higher-level positions at ISU.
Future plans
Fowler and Mongtin will serve as interim director and assistant director, respectively, through June 2013. Fowler succeeded Penny Rice, who had been director for the past 11 years.
The leadership transition gives the women's center an opportunity to evaluate its mission, goals and space needs for the future. This fall, the staff is conducting an internal review to determine how well the center is meeting women's needs on campus. Next semester, an expert in women's center programs will conduct an external review of the center, offering feedback and direction for its future. Following the external review, the center's leadership direction will be defined.
No matter what the outcomes are from the internal and external reviews, Fowler knows collaboration across campus is key to the future success of the Margaret Sloss Women's Center.
"The women's center can't do it alone," Fowler said. "We need to continue to educate the campus community and help it see why a university with gender equity is more positive for everyone."