Jan. 13, 2011
Tweet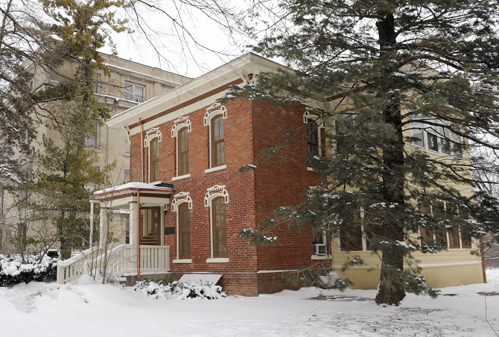 The historic Sloss House is located south of Curtiss Hall. It is home to the Margaret Sloss women's center. Photo by Bob Elbert.
Open house will showcase refurbished Sloss House
by Erin Rosacker
After five months of renovation work and two temporary relocations of staff members since last May, the Margaret Sloss women's center is holding a grand reopening celebration. The event will be held in the historic Sloss House on Wednesday, Jan. 19, from 10 a.m. to 2 p.m.
"The Sloss House needed this work for some time," said Penny Rice, women's center director. "The renovation is the result of an extensive collaboration among our maintenance and improvement committee, the Government of the Student Body and the Graduate and Professional Student Senate. The fresh new look will brighten everyone's day as they cross the threshold of the Sloss House."
Improvements made to the 128-year-old Sloss House included a new roof, gutters, interior and exterior paint and refinished hardwood floors. New carpet and furniture were installed on the main floor and the computer lab was updated and expanded.
Refreshments will be available during the celebration, and building tours will be offered. A short program will begin at 12:30 p.m.