Jan. 13, 2011
Tweet
King's inspiration, achievements will be remembered during campus, city celebrations
by Anne Krapfl
The university's annual observance of Martin Luther King Jr. Day opened Wednesday with a "Let Freedom Ring" noon concert by Iowa State carillonneur Tin-Shi Tam, associate professor of music.
If he still were alive, civil rights leader King would celebrate his 82nd birthday this week. He was assassinated in April 1968 at the age of 39; this country's first King holiday was observed in 1986.
The university community will gather for a celebration of his life Jan. 20 (4 p.m., Memorial Union Great Hall). Associate provost Dawn Bratsch-Prince will present the Dr. Martin Luther King Jr. Advancing One Community awards (PDF). The event also will include musical performances by Shy of a Dozen, an all-male a cappella student ensemble; and the violin duo of seniors Claire Wandro and Jordan Trachtenberg. Speakers include Government of the Student Body president Luke Rolings and Black Student Alliance president Monae Lane. ISU Dining staff will serve birthday cake. All are welcome to attend.
In Ames
University offices will be closed and classes will not be held Monday, Jan. 17, to observe the national Martin Luther King Jr. holiday. Several university offices are co-sponsors of public events held in Ames that day.
From 6:30 to 7:30 p.m. at the Ames Middle School auditorium, a celebration will feature skits, songs and a speech or two by members of the community. Come early for dessert; free birthday cake will be served from 6 to 6:30 p.m. in the school cafeteria. The middle school is in southwest Ames at 3915 Mortensen Rd.
At 2 p.m. at the Ames Public Library, there will be a showing and discussion of the film, A Village Called Versailles. Versailles is a neighborhood on the eastern edge of New Orleans, home to the densest ethnic Vietnamese population outside of Vietnam. In the aftermath of Hurricane Katrina, Versailles residents rebuilt their homes, only to then have them threatened by a landfill for Katrina toxic debris planned near their neighborhood. They fought back.
Later this semester
As part of Iowa State's broader celebration of King's ideals, these public lectures are scheduled in the coming weeks: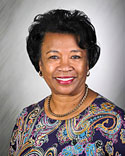 Gibson
Living leadership
Monday, Jan. 31 (8 p.m., MU Great Hall): Gloria Gibson, the University of Northern Iowa's executive vice president and provost since July 2009, will talk about leadership. Beginning in February, Gibson also will serve as interim president while president Ben Allen is on medical leave. She came to UNI from Arkansas State University, Jonesboro, where she was dean of the College of Humanities and Social Sciences.
Sitting in at Woolworth's
Tuesday, Feb. 15 (8 p.m., MU Sun Room): Joseph McNeil, one of the "Greensboro Four," will share that group's story. On Feb. 1, 1960, four black freshmen at North Carolina A&T State University, frustrated with segregation in the South, sat down at the "whites only" lunch counter in the Greensboro Woolworth's and asked to be served. They were refused. They promised to return every day until they were served -- and they did. The movement spread to lunch counters in 54 cities until on July 25, 1960, the Woolworth company agreed to integrate its lunch counters.
Talking politics and leadership
Thursday, March 31 (7:30 p.m., MU Sun Room): Public television's Gwen Ifill is moderator and managing editor of Washington Week and senior correspondent for The PBS Newshour. She covered six presidential campaigns and moderated the vice presidential debates in 2004 and 2008. Before joining PBS, she was a political correspondent for NBC News and covered the White House and politics for The New York Times. She is the Catt Center's spring 2011 Mary Louise Smith Chair in Women and Politics, and will talk about leadership and politics.