Oct. 27, 2011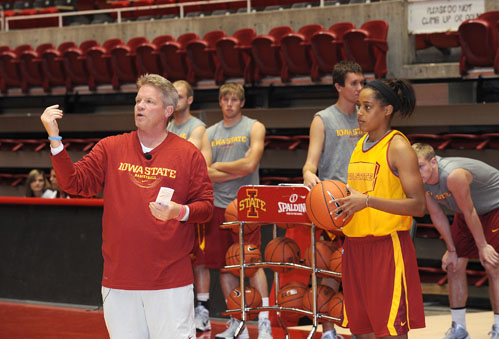 Iowa State women's basketball head coach Bill Fennelly sports a wireless microphone during Monday's practice at Hilton Coliseum, where a portable speaker system allows him to coach without raising his voice. The Sukup practice facility's sound system also works with a wireless microphone. Photo by Bob Elbert.
Wired for sound
by Erin Rosacker
Virtual voice
Although the cancer treatments may quiet women's basketball coach Bill Fennelly on the sideline, you can follow him -- speaking loud and clear -- on Twitter (@ISUCoachFen).
You'd be hard pressed to find anyone more prepared and committed to a game plan than Iowa State women's basketball head coach Bill Fennelly. Offensive and defensive schemes will be in place when the team takes the floor Nov. 1 against Coe College for its first exhibition game of the season, but Fennelly's usual coaching style will have to take a "wait-and-see" approach.
Last month, Fennelly's doctors found a cancerous lesion on his vocal chords. He began five weeks of radiation treatments on Oct. 17, which doctors say should lead to a full recovery. Although Fennelly has been cleared to continue his coaching duties, he's using a wireless microphone and speaker system during practices to keep from raising his voice. He used the system after his first round with the disease, which required surgery in June 2005.
"The support I've gotten from everyone has been overwhelming," Fennelly said. "The timing isn't perfect, but I'm committed to doing what I need to do for the best possible outcome."
When fans fill Hilton Coliseum (an average of 9,370 at home games last year), Fennelly will have to find alternatives to how he always has communicated with his team, coaching staff and -- of course -- the officials. As the treatments proceed, his ability to speak without pain may be impacted. An additional five weeks of recovery is anticipated following the last radiation session (Nov. 23), potentially putting him back at full volume just as the Big 12 Conference portion of the schedule gets under way.
"I'm not sure how I'll communicate during the games," Fennelly said. "I know I'll be relying heavily on my great coaching staff. We'll find a way to make it work."