Sept. 22, 2011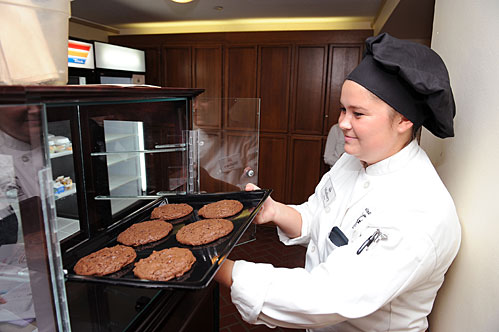 Senior Mallory Milligan stocks the Tearoom's take-out cabinet with fresh-baked monster cookies. Meals and a la carte items also are available for purchase in 23 MacKay. Photo by Bob Elbert.
Tearoom adds take-out lunch service
by Erin Rosacker
Campus diners can add another option to their list of grab-and-go lunch possibilities. The Joan Bice Underwood Tearoom, located in the lower level of MacKay Hall, now is offering its menu items to go.
The Tearoom, a learning lab operated by students in the HRI 380 class, offers lunch Tuesday through Friday during the school year. Reservations are required for the sit-down meal and recommended for the to-go service, which is available during the lunch hour (11:50 a.m.-12:50 p.m.).
No reservation? No worries. An assortment of a la carte items and extra meals are available for drop-in customers while they last. A variety of cookies, fresh from the oven, also are available daily.
"When it gets colder, we'll have soup," said Tearoom coordinator John Kramer. "We hope to have some wraps, salads and more as the semester progresses."
Tearoom weekly menus are posted online. Patrons can order to-go meals in person or by calling 4-3330 prior to 10 a.m. Meals are $6.50, cookies are $1.25, and a la carte items are priced as marked. Kramer said drop-in diners also are welcome when space is available; just inquire at the door.