Sept. 23, 2011
Open forum: Subbaswamy on higher ed challenges
by Diana Pounds
Presidential finalist Kumble Subbaswamy reflected on challenges to public universities, the role of athletics in higher ed and more during a packed-house open forum in Morrill Hall Thursday.
Following are some of the University of Kentucky provost's comments on a variety of topics. Video of the forum is available on the Presidential Search website tonight (Sept. 23).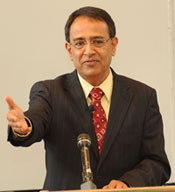 Kumble Subbaswamy
Subbaswamy on:
Funding for public universities
Land-grant universities will have to depend more and more on themselves for the financial support they'll need to maintain both quality and access. "You can't indiscriminately be increasing tuition because that is counter to the land-grant mission. The only solution really is that we have to engage significantly in innovation and entrepreneurship."
Demand for university research
Demand for university-based research will increase, partly because the industrial research laboratories are mostly gone. "National laboratories, which are very mission-focused, and research universities are the only players truly left in the research business. Not only that, but job creation in the United States will depend more and more on technological innovation fueled by university-based research."
"The challenge is that research is expensive, especially in science and technology areas. And federal funding is likely to decline further as the deficit gets large. So public-private university partnerships in support of research and development and job creation will be increasingly important."
Athletics' role
"Athletics is a part and parcel of the on-campus experience of the American university life." The focus on revenue sports can overshadow the impact of bringing in many other student-athletes who might not otherwise come to a university. Some 400 or 500 students are supported by athletic scholarship and athletic-related employment.
"Having said that, revenue sports, being in a BCS Bowl, is particularly important. It brings a level of excitement and campus branding, and it really is part of the memory that students carry with them and what connects them to the university as they leave."
Arms race in merit scholarships
"One issue that concerns me is the way public universities have been in sort of an arms race about merit scholarships -- not merit and need based scholarships, but merit-based scholarships only to look better in U.S. News and World Report . . . that is crosswise with the idea of access."
I want to be part of discussion nationwide, thinking about how we use institutional dollars to open doors in general. It's something that deserves a national hearing.