Sept. 23, 2011
Open forum: Leath on the land-grant role in prosperity
by Diana Pounds
Presidential finalist Steve Leath talked about why the 150-year land-grant model still works and how universities can contribute to prosperity during an open forum Friday. For the second day, forum-goers filled the Morrill Hall auditorium and then some, this time to hear from the vice president for research and sponsored programs for the University of North Carolina System.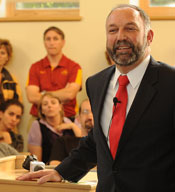 Steven Leath
Leath on:
Following are selected comments from Leath on a variety of topics. Video of the forum is available on the Presidential Search website.
Leath on:
Why other universities are emulating the land-grants
Other good public universities are "trying to, in a subtle way, reinvent themselves like land-grants." They're trying to be more sensitive to state and citizen needs, resolve problems and train students who are employable.
"Essentially what they're trying to do is emulate what we've done for 150 years. The reason they're doing that is because that's what's needed right now and that's how they're going to be successful."
Innovation economy
"Taxpayers, businesses, legislators all see the economy struggling and they all see the need for the universities to respond. I don't think any of those folks or myself see us returning to prosperity through a big increase in traditional manufacturing. We see prosperity in some specialty manufacturing. We see prosperity coming from our economy growing as an innovation economy -- from the ideas of our faculty, our students, our staff, from jobs we don't even know what they are yet."
Becoming more demand-driven
Universities must become more demand-driven, more responsive to citizen needs. Higher education has been supply-driven for too long. "We [universities] are blessed with lots of smart, talented people but we basically did whatever we wanted, set it at the front door and if society wanted it, they could come get it and take it. I don't think that's going to work anymore and not only do I not think its going to work, I don't think it's the right thing to do. Our economy's struggling, our country's struggling. We need to look at what the citizens and the states really need. And there's nothing wrong with being demand-driven.
Athletics
"I want us to run a clean quality program and I'd like us to win, but I think the other's more important. We don't drive the university with athletics, but many of the students here aren't going to have the quality life experience of being a college student without a vibrant interscholastic athletics program they can participate in. We're not going to raise funds for the library or a lot of other places as well as we'd like to if we don't have a winning quality athletics program."