May 12, 2011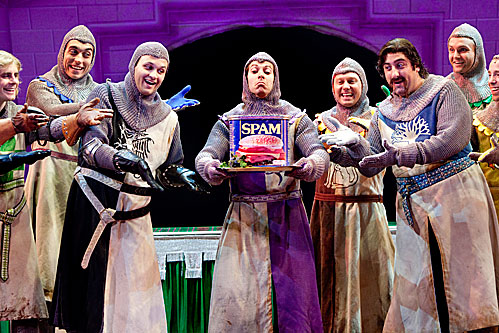 Monty Python's Spamalot comes to Stephens next January as part of the 2011-12 Season at Stephens announced May 11. Submitted photo.
Next performing arts season features (literally) something for everyone
by Anne Krapfl
The 2011-12 Season at Stephens, announced today, features 20 performing arts groups in just seven months' time. Crowd-favorite Broadway musicals will include Disney's Beauty and the Beast, 2005 Tony Award winner Monty Python's Spamalot (based on the Python Holy Grail fiasco), an updated version of Young Frankenstein and the 1956 classic My Fair Lady.
Iowa State Center general manager Mark North noted that the lineup features performers from around the globe.
"The arts have the power to engage our community, overcome cultural barriers and just flat out entertain us and make us feel good," he said. "They should remain a priority even during uncertain economic times."
Details about all the shows in the series are on the center's website. Discounted ticket packages for three or more shows are on sale through June 30. Single-show tickets go on sale Monday, July 18.
Dance productions coming to Stephens next year include Sleeping Beauty by the Moscow Festival Ballet company, the Dayton (Ohio) Contemporary Dance Company and BLAST! -- part dance, part marching percussion band.
The season features three holiday shows. Pianist Lori Line returns Nov. 20, Christian superstars Mercy Me will perform Dec. 1, and Osmond brothers Jay, Wayne and Jimmy will bring their Christmas show to Stephens on Dec. 15.
Other concerts will be performed by the St. Petersburg (Russia) State Orchestra, 12-voice men's vocal ensemble Chanticleer, County Waterford's (Ireland) Danu (traditional Irish instruments and vocals) and Limerick's Irish Chamber Orchestra. The Fab Four will pay tribute to The Beatles and the Ambrose Akinmusire Quintet will pay tribute to jazz icon Miles Davis.
Theater productions include Shakespeare's MacBeth performed by the Aquila Theatre of New York City and a look at the effects of climate change with Miss Frizzle on the Magic School Bus Live.