May 12, 2011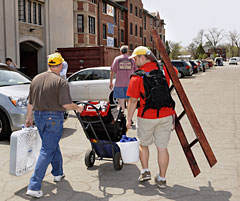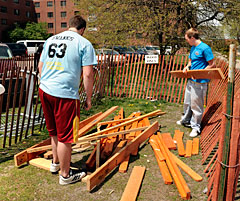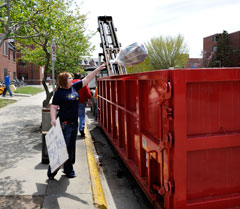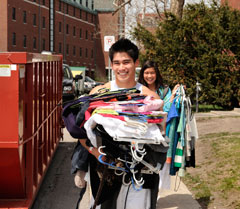 The May dance in the parking lot
by Anne Krapfl
Thousands of students -- and hundreds of thousands of pounds of their stuff -- moved out of campus housing in a few short days last week. Residence staff did their best to find everyone a nearby parking stall for 90 minutes; the packing and loading (or throwing) was up to the students and their families.
Here's a sample of what was overheard in the Friley-Helser loading zone on move-out Friday:
Son to dad: "Upright? In the truck? There's no way . . ."
Dad cuts him off: "It has worked. Every year."
About a loft piece extending beyond the truck tailgate: "If nobody hits it on the way home, we'll be good."
Daughter to dad: "These stairs are killing me."
Dad to daughter: "I expect you to be sprinting down those stairs."
"Plenty of room!" (less than an inch to spare)
Eyeing a full car trunk: "I'm not sure where to put this . . . and I'm not an engineer."
"I thought it would work. I didn't say I'd bet on it."
"Where IS mom?!!"