March 3, 2011
Jane Smiley to speak about her Atanasoff biography March 3
by Teddi Barron, News Service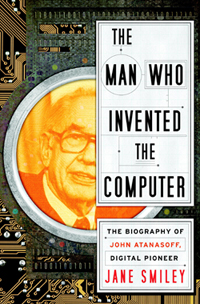 Pulitzer prize-winning author Jane Smiley will speak at Iowa State about her most recent nonfiction book. Her talk, "The Man Who Invented the Computer: The Biography of John Atanasoff, Digital Pioneer," begins at 8 p.m. Thursday, March 3, in the Memorial Union Great Hall. Smiley's presentation is part of the university's National Affairs Series on Innovation. It is free and open to the public.
Smiley's book by the same title tells the story of Atanasoff, an Iowa State physics and mathematics professor who invented the first electronic digital computer in the basement of Physics Hall in the late 1930s before he was diverted into war work in 1941. The book, published in October 2010, is the first entry in Doubleday's Great Innovators series.
Smiley was a member of Iowa State's English department faculty from 1981 to 1996. She is the author of a dozen books of fiction, including A Thousand Acres (which won the Pulitzer in 1992), The Age of Grief, The Greenlanders, Ordinary Love and Good Will, Moo, Ten Days in the Hills and, most recently, Private Life. She also has written essays and short stories for Harper's, The Nation, Vogue and The New Yorker. Smiley was elected a member of The American Academy of Arts and Letters in 2001, and received the PEN USA Lifetime Achievement Award for Literature in 2006. She chaired the judges' panel for the prestigious Man Booker International Prize in 2009.