March 3, 2011
Oliver will serve as interim dean of the College of Liberal Arts and Sciences
by Steve Jones, College of Liberal Arts and Sciences Communications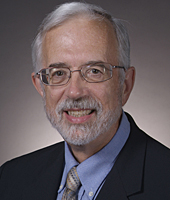 David Oliver
David Oliver, professor and associate dean of the College of Liberal Arts and Sciences, has been named interim dean, effective July 1.
He will succeed Michael Whiteford, who will retire on June 30 and move to Oregon to be closer to his family. Oliver will serve until a new dean is appointed and able to start.
Oliver joined the Iowa State faculty in 1996 as chair of botany (now part of the department of genetics, development and cell biology), when provost Elizabeth Hoffman was LAS dean. Oliver was appointed associate dean for research in the College of Liberal Arts and Sciences in 2003. Prior to coming to Iowa State, he served on the faculty of the University of Idaho, Moscow, from 1979 to 1996. He also has worked as an agricultural scientist at the Connecticut Agricultural Experiment Station, New Haven, Conn.; was a National Science Foundation postdoctoral fellow; and has been a visiting professor at CERN (Grenoble, France) and Flinders University (Adelaide, Australia).
"I am looking forward to working closely with David again," Hoffmansaid. "He has been an outstanding dean for research and an excellent department chair."
Oliver's research focuses on plant biochemistry -- specifically, metabolism -- and how plants adjust to environmental and developmental changes. In his role as associate dean, he has focused on start-up support for new faculty to ensure they have the resources and equipment to begin their research at Iowa State.
Oliver received his bachelor's (1971) and master's (1973) degrees from the State University of New York's College of Environmental Sciences and Forestry at Syracuse University, and a Ph.D. (1975) from Cornell University, Ithaca, N.Y.
Hoffman said work has begun on forming a committee to conduct a national search for a permanent dean. Engineering dean Jonathan Wickert and Graduate College dean and associate provost for academic programs David Holger will co-chair the search committee.
"I wish to thank all who nominated candidates for interim dean and for membership in the search committee," she added.