Dec. 16, 2010
Tweet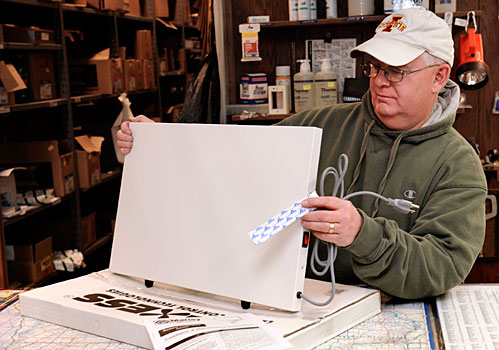 Storekeeper Trevor Howe with the radiant heat panel routinely stocked by Central Stores. Other models may be ordered through the department's online catalog. Photo by Bob Elbert.
New possibility for an old problem: chilly offices
by Anne Krapfl
The door that had been slammed shut on space heaters in campus workspaces has been cracked -- just a smidge.
If systemic or building-specific problems are ruled out as cause for chilly work areas, and if a few criteria can be met consistently, the state fire marshal has approved some radiant heaters for use on campus. That's good news -- especially as outdoor temperatures plummet -- for ISU employees accustomed to sporting fleece jackets or running their icy hands under warm water every hour.
Got a question?
Contact Bob Currie, 4-1875, facilities services, to request a check on your building's heating system. Contact Troy Carey, 4-9495, EH&S, with questions about space heaters.
"Radiant heat panels won't solve every problem on campus," said Bill Diesslin, an assistant director in ISU's environmental health and safety department (EH&S). And he urges employees to first call facilities planning and management to make sure a mechanical problem isn't responsible for an uncomfortably cool workspace. Only after that should radiant space heaters become an option.
"If your extremities -- your feet, your legs -- are warm, typically you'll be warm. Radiant panels can do that, safely," Diesslin said.
Heat by the book
According to EH&S, employees interested in supplemental heat need to use a heater that meets these criteria from the fire marshal:
It is UL listed and labeled
The heating element must not exceed 212 degrees Fahrenheit
It's plugged directly into the wall (no extension cords)
It's not operated within three feet of combustible material (including wastebaskets)
It's operated only in the manner for which it is listed
Passed the test
EH&S and ISU facilities services reviewed and approved an electric heat panel currently stocked by Central Stores. It's a 22-by-16-by-1-inch radiant panel that has a floor stand or can be attached to the inside of a desk's front panel with a Velcro strip. Central Stores purchases them in quantity and sells them for $75 each -- and has sold more than 85 of them in the past year.
Facilities services director Bob Currie tested the model to see how hot its surface gets and how much energy it uses. Among his findings:
Maximum power consumption for the radiant panel heater is rated at 170 watts. With most glowing element heaters, the lowest power setting is 500 watts
The surface temperature did not exceed 140 degrees Fahrenheit
In four- and six-hour tests, the cost to operate was about 1.2 cents per kilowatt-hour -- compared to 5.5 cents to operate the 500-watt glowing element heater at its rated capacity
"They aren't the cure for all spaces with heating challenges, but radiant panel heaters are safer, energy conservative and fire marshal-approved," Currie concluded.
What is radiant?
Radiant heat, considered more efficient than forced air heat or baseboard heat, works the same way as the sun: It produces rays that warm objects or people, not the air around them. But a key reason radiant heaters are an option in ISU buildings is safety: Their surfaces don't get hot enough to set paper on fire.
Does that suggest it's wimpy heat?
Jean Stewart, an assistant scientist with ISU's Nutrition and Wellness Research Center, was part of a Human Sciences college team that investigated and purchased three dozen radiant heat panels as a safe, legal, greener heat source. Eight of them were put to use in the center's leased space at the ISU Research Park. Stewart's workspace has exterior walls of glass; her office temperature was 58 degrees early this week, even though the thermostat was set 12 points higher.
"We've had mixed reviews," she said. "It keeps my legs and feet warm, and that's big. But they do have a hard time overcoming some of the conditions in these buildings."
College employees who work in buildings with less extreme heating issues have been satisfied with their performance, Stewart said.
Diesslin noted that the EH&S policy on space heaters technically still prohibits them.
"But, we know that there have been improvements in space heaters. If someone purchases a radiant heater and commits to the strict fire marshal criteria in using it, that 'no' could become a 'maybe,'" he said.