Dec. 16, 2010
Tweet
Fall commencement is set for Dec. 18
by Paula Van Brocklin
An anticipated 1,689 students will complete degrees at the end of fall semester, and many of them will participate in a single fall commencement ceremony at 1:30 p.m. Saturday, Dec. 18, in Hilton Coliseum. The undergraduate and graduate ceremonies are combined this year.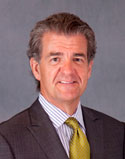 Jurgens
An estimated 1,319 undergrads, 256 master's students and 114 Ph.D. students will complete their degrees. ISU alumnus Richard Jurgens, chairman of the board and chief executive officer of Hy-Vee Inc., will address the graduates.
Jurgens joined Hy-Vee after earning a bachelor's degree in industrial administration (1971) from ISU. While at Hy-Vee, he has served as a store manager, district manager, regional manager, senior vice president, executive vice president and chief administrative officer, and president before assuming his current position as chairman and chief executive officer.
Jurgens is a member of the Iowa Business Council, the College of Business Dean's Advisory Council and the ISU Foundation Order of the Knoll. He received the Iowa Governor's Volunteerism Award, the Citation of Achievement Award and the John D. DeVries Service award from the College of Business.
Receptions and celebrations
Following commencement, all graduates, their families and friends are invited to a reception from 3 to 5 p.m. at the Alumni Center, 420 Beach Ave. Refreshments will be provided. Simon Estes, Iowa State's F. Wendell Miller Distinguished Artist in Residence and internationally acclaimed bass-baritone, also will be present.
The colleges also have events planned to honor their graduates. A complete list of convocation activities is online.