Dec. 16, 2010
Tweet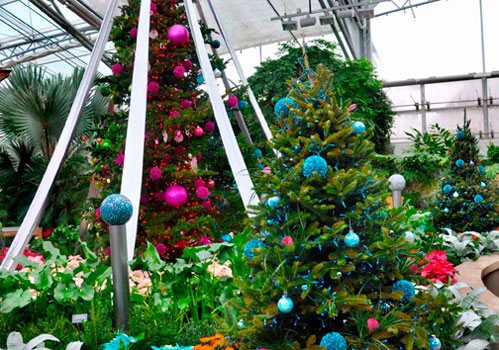 A holiday display that's out of this world
Reiman Gardens wraps up its 2010 design theme, "A Celebration to Garden Ornamentation," with a tribute to gazing balls, those odd orbs first introduced in 13th century Italy that have been popping up in gardens worldwide ever since.
Inside the gardens' conservatory, donated bowling balls are transformed into gazing balls -- with a celestial spin. Volunteers spent the past few months gluing small pieces of glass onto the balls to recreate the planets in the solar system. The centerpiece of the display, a 16-foot tree with broad silver banners anchored from above by planet Earth, represents a rocket ship blasting through space.
Numerous trees throughout the gardens' buildings also are color-coordinated to match their gazing ball counterparts nestled nearby. Ornaments on these trees include dried hydrangea blooms, napkin rings and marbles.
Reiman Gardens is open daily (except Christmas Day and New Year's Day) from 9 a.m. to 4:30 p.m. Regular admission prices apply. Submitted photo.