July 29, 2010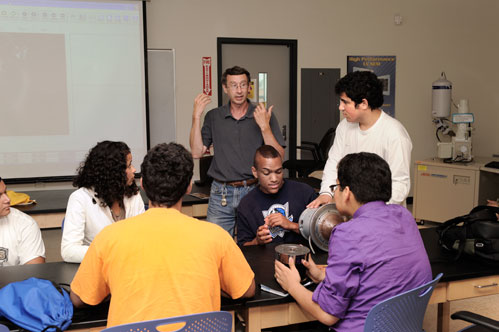 Materials science and engineering professor Scott Chumbley (center) gave SPEED participants a closer look at a scanning electron microscope, one of many department lab experiences planned for the students. Photo by Bob Elbert.
Summer program gives incoming freshmen a boost
by Erin Rosacker
A College of Engineering multicultural program for high school students brought 21 incoming freshmen to campus this summer. Ten of the students in the Summer Program for Enhancing Engineering Development (SPEED) are studying on an academic track, while 11 are working on research projects. The program wraps up Aug. 6.
"SPEED is an immersive learning community where strong peer relationships are built and critical acclimation to the university gives them an excellent start as first-year college students," said Derrick Rollins, the professor of statistics and chemical and biological engineering who created and leads the program.
Students live on campus during the eight-week program, and participate in field trips, leadership activities and professional development workshops in addition to their academic or research activities.
Math, physics and computer programming are the primary subjects studied in the academic track. The research track pairs students with Engineering faculty for hands-on experience with ongoing research projects. Although participants do not earn college credit during the program, they can test out of some prerequisite courses. However, academic students earn up to $200 each week, and research participants earn up to $300 per week.
"The goal of the academic track is to accelerate the preparation of high-potential, but disadvantaged, underrepresented students of color -- to expose them to the professional world of engineering and place them on an accelerated track for professional achievement and development," Rollins said.
"The goal of the research track is to provide an intensive research mentoring experience for high-achieving underrepresented students in engineering -- to place them on a unique path leading to professional or graduate school."
Chock-full itinerary
Weekdays are filled from 8 a.m. to 9:30 p.m. with classes, lab time, workshops and study sessions. Blocks of time are set aside for meals and personal time during the week, while weekends are more flexible with scheduled field trips and plenty of free time.
Some topics covered in the learning workshops include:
How to write lab reports
Community service, involvement opportunities and volunteering
Etiquette, professional behavior and communication
International programs
Through lab experiences and presentations, participants are exposed to such things as electrical engineering, materials engineering and internal combustion engineering. They've made field trips to Pella Corporation (Pella) and General Mills (Cedar Rapids), with another to Rockwell Collins (Cedar Rapids) on the itinerary.
Who's here
Participants hail from Iowa and other Midwest states, but also come from Tennessee, Texas and Puerto Rico. This year, the SPEED roster boasts nine females and 12 male students.
Zak Cordes, an incoming aerospace engineering major from Delano, Minn., was paired with genetics, development and cell biology professor Eve Wurtele. He joined her team of ISU students which is developing a video game that teaches biology to high school students. His part of the project integrated calculus skills into the game.
"I'm not used to working on a computer all day, but the work is fun," Cordes said. "I took calculus over a year ago, so this is really helping me understand it more."
Rafael Alameda plans to major in chemical engineering. The Puerto Rico native is participating in the academic track, and said he would recommend the program to other students. James Jackson, a future civil engineering major from Dallas, said the academic program was a lot of work, and it beats his summer alternative.
"I'd probably just be sitting at home," Jackson said with a smile.