April 15, 2010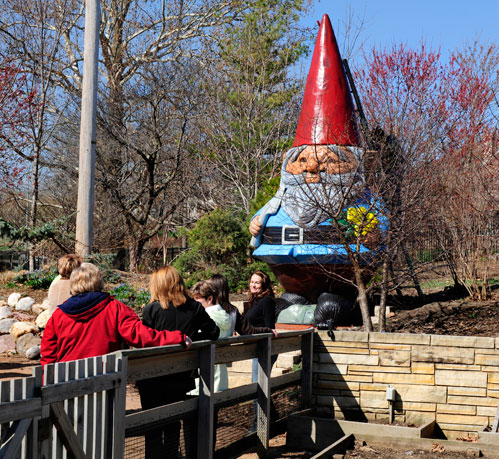 Photo by Bob Elbert.
Gnome on the range
The largest concrete gnome in the country was installed at Reiman Gardens last week as part of a new exhibition opening April 23 and continuing through mid-October. Commissioned by Reiman Gardens, the gnome was created by sculptor Andy Kautza of National Rock and Sculpture, Wausau, Wis. The gnome stands 15 feet tall in a part of the gardens known as the shade garden and weighs 3,500 pounds (with a hollow frame of steel rebar and metal lath, covered by about 2 inches of concrete). He cost $10,000, which was covered by strong gate receipts during last year's dinosaurs exhibition.
He doesn't have a "gname" yet, but gardens staff is accepting suggestions. The selected name will be announced at the exhibition's preview event on Earth Day, April 22.
Joining the big gnome in this exhibition are 20 much smaller versions of the same guy, adopted and custom painted by area civic groups and organizations, and displayed throughout the gardens.
Director Teresa McLaughlin said she expects the tall gnome will remain at Reiman Gardens for several years. The gnome exhibition is part of Reiman Gardens' 2010 theme, "Celebration of Garden Ornamentation."