Feb. 25, 2010
King Pavilion earns Iowa State its first platinum certification
by Teddi Barron, News Service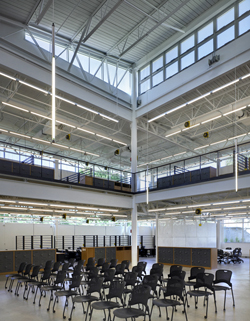 Located on the north side of the College of Design, the $6.6 million, 23,735 gross-square-foot King Pavilion features a central, two-story "forum" surrounded by instructional studios used by all freshmen in the college, as well as sophomores in architecture, landscape architecture and interior design. Photo by Cameron Campbell.
The King Pavilion addition to the College of Design has been awarded LEED® Platinum certification by the U.S. Green Building Council (USGBC). It is the first higher education building in Iowa to achieve LEED Platinum status and among just a handful nationally in public higher education.
LEED is USGBC's rating system for designing and constructing the greenest, most energy-efficient and high-performing buildings. Platinum is the highest rating given for new construction projects, followed by gold, silver and simply "certified." Each rating corresponds to the number of credits accrued in six categories: sustainable sites, water efficiency, energy and atmosphere, materials and resources, indoor air quality, and innovation in design.
"The King Pavilion stands as a testament to the commitment that Iowa State has made to becoming a model 'green' university, in our daily operations as well as in our teaching, research and outreach programs," president Gregory Geoffroy said.
The significance
The King Pavilion is one of only eight LEED Platinum buildings in higher education at public institutions in the United States. It is the second LEED-certified building on the Iowa State campus. Morrill Hall earned LEED Silver. Hach Hall, the Biorenewables Research Laboratory and the recreation facilities expansion are being designed and built under LEED guidelines; they are targeting Silver, Gold and Gold, respectively. King Pavilion also is just the second LEED Platinum building of any type in Iowa; the other is the ACT Data Center in Iowa City.
The score
Up to 69 points is possible in the Platinum category. The College of Design submitted 57 points for approval and earned 53, including three exemplary performance points for daylighting, water efficiency and recycled content. Exemplary performance points are awarded for exceeding LEED requirements.
For example, the King Pavilion achieved 100 percent daylighting, exceeding the requirement of 75 percent. Clerestory windows on both levels of the building and the light monitor (the sloped section of roof above the central forum space) allow for uniform lighting levels inside and reduce the need for artificial lighting.
Sensors throughout the facility monitor occupancy and light levels and automatically turn lights on and off as needed. In part because of this, and occupancy sensors that adjust the temperature and ventilation when the space is not occupied, the King Pavilion is 42 percent more energy efficient than a code-compliant building. In the architect's energy model, the King Pavilion will save about $1 per square foot per year in energy over a standard code building.
The second exemplary performance point was for water efficiency. The King Pavilion achieved a 50 percent reduction in water use over a code-compliant building, in part by installing automatic sink faucets, low-flow urinals and dual-flush toilets in the restrooms. The two-button flushing system permits users to manually select the water volume of each flush according to need.
LEED thresholds for recycled construction content range from 10 and 20 percent; the King Pavilion achieved 32 percent, in part by using 75 percent recycled steel, recycled blue jean insulation, recycled plastics and restroom countertops made of 100 percent post-consumer recycled paper.
Commitment to green building
"This is truly an achievement for Iowa State. LEED Platinum is the most difficult certification to obtain, and we did it," said project manager Kerry Dixon-Fox, an architect with facilities planning and management. "We used a number of new technologies on this building that haven't been used on campus before, and it will help us demonstrate how sustainable design provides a great learning environment. The King Pavilion will be a showcase for building green."
The addition is named for alumni Steve King, Maple Plain, Minn., and his late wife, Barb (both class of '68), who made a commitment of $1.5 million for the facility. The Kings founded Landscape Structures Inc., an innovative children's play equipment company. More than 2,000 other alumni and friends contributed to the project.
The King Pavilion was designed by RDG Planning and Design, Des Moines. Others on the project team included Conservation Design Forum, Elmhurst, Ill.; Charles Curt, Engineering Economics Inc., Red Wing, Minn.; Holabird and Root, Rochester, Minn.; Charles Saul Engineering, Des Moines; Stecker-Harmsen, Ames; and The Weidt Group, Minnetonka, Minn.