Feb. 25, 2010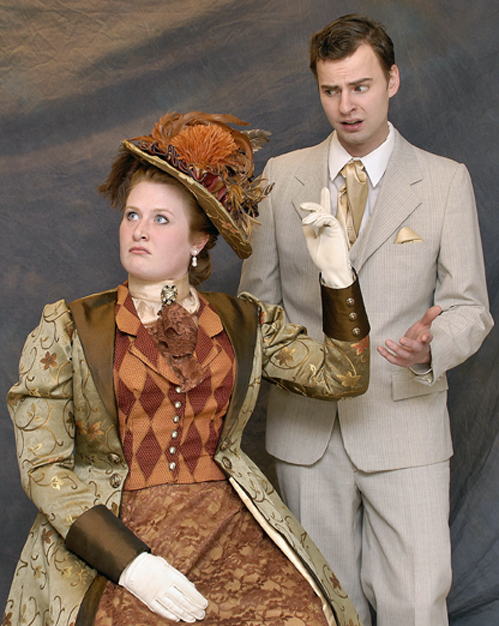 Jack Worthing (Caleb Woodley) must overcome his web of lies and the disapproval of Lady Bracknell (Kelly Teitsworth) as he pursues his true love. Photo by Patrick Gouran.
Being earnest about Ernest
by Erin Rosacker
ISU Theatre opens its spring semester lineup with a production of the Oscar Wilde comedy, The Importance of Being Earnest. The show begins its two-weekend run Feb. 26 at Fisher Theater.
The three-act play follows the complications that country gentleman Jack Worthing (senior Caleb Woodley) encounters thanks to Ernest, his fictional London alter ego. As Ernest, Jack finds his true love in Gwendolen Fairfax (senior Tawnee Rebhuhn) and a best friend in her cousin Algernon Moncrieff (senior Don Watts). It's when Jack finally decides to reconcile his two lives that things really begin to get interesting, and twists to the tale hold surprises along the way.
"It's witty," said Jane Cox, department chair and director of the production. "The comedy comes through the dialogue. It's a nice way to have an evening of fun."
Show times for The Importance of Being Earnest are 7:30 p.m. on Fridays and Saturdays; and 2 p.m. on Sundays, from Feb. 26 through March 7. Tickets, available at the Iowa State Center ticket office or through Ticketmaster, are $15 for adults, $13 for seniors and $8 for students.