Aug. 27, 2009
High-tech trash
by Paula Van Brocklin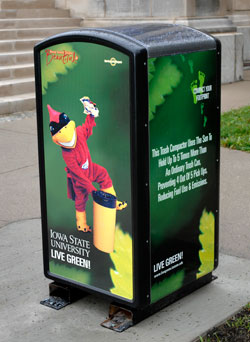 The BigBelly solar trash compactor currently sits west of Curtiss Hall. It will move around campus every two or three weeks. Photo by Bob Elbert.
A new receptacle along the west side of Curtiss Hall may give you pause. It looks similar to a post-office box or a book return, but don't drop your bills or books in there.
The contraption is a solar-powered trash compactor, called the BigBelly. Facilities planning and management employees are trying it out for the next several months to see if it can take a bite out of their operating expenses.
FP&M chose the Curtiss location because of heavy student traffic, especially at the beginning of fall semester. Plans are to move the BigBelly around campus every two to three weeks, including to Jack Trice Stadium during football games.
How it works
The BigBelly is 26 inches wide, 25 inches deep and 50 inches high. It is completely enclosed with a solar panel on top. A door on the front opens from the top, and trash goes into a basket below. An electronic "eye," activated by solar energy, monitors the trash depth. When the garbage reaches a certain level, compaction automatically occurs.
The BigBelly holds the same amount of trash as five 55-gallon garbage cans before it needs to be emptied. A flashing light on the container indicates when it's full. Once the contents are fully compacted, FP&M staff dump the trash into a garbage truck and haul it to the Ames Resource Recovery Plant, where it's burned for energy.
Few restrictions
Les Lawson, campus services manager, says the BigBelly must be kept out in the open, away from building overhangs and trees. And, FP&M employees will need to keep snow off the solar panel. But besides that, it's typical trash can.
"Anything that goes in a normal trash can, or can fit through the door, will work [in the BigBelly]," Lawson said.
Cost versus advantages
FP&M used year-end money to purchase the $4,000 BigBelly. Pricey? Yes. But Lawson sees many advantages to offset its cost.
"It's fully enclosed, so it keeps animals out and keeps trash from blowing around," Lawson said. "Plus, it saves fuel and time."