Sept. 8, 2011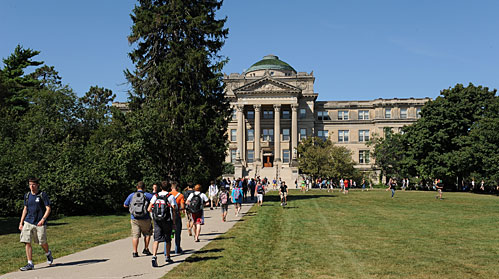 Photo by Bob Elbert.
Another record: Fall enrollment nears 30,000
by Annette Hacker, News Service
Iowa State's record fall enrollment of 29,887 marks five consecutive years of growth, and includes all-time high numbers of new (direct from high school) and transfer students.
Overall enrollment is up 4.2 percent (1,205 students) over the previous record of 28,682 in fall 2010. The student body represents every Iowa county and 106 countries.
Iowa State has attracted its largest freshman class ever -- 5,048 -- and 61.5 percent of them (3,105) are Iowans. And ISU this fall has enrolled a record number of new transfer students (1,781); 1,050 of them are from Iowa's community colleges, also a record.
Total Iowa resident enrollment is 18,526, of which 16,552 are undergraduates.
The most frequent choice of Iowans
"We're very proud of the fact that, year after year, more Iowa high school graduating seniors choose Iowa State over any other four-year college or university," said Marc Harding, assistant vice president for enrollment and director of admissions. "When you consider the declining number of high school students in our region and the many post-secondary options available to them, being able to welcome students in record numbers really affirms their belief in the quality of an Iowa State education and the experiences they can have here."
President Gregory Geoffroy added, "I'm most excited every fall to see the energy and talent our new students bring -- to think about who they are and who they will become. Everyone at Iowa State shares in the responsibility to help our students reach their potential, and to provide the knowledge and skills they'll need to be successful and to make a difference in the world."
By the numbers
In addition to Iowa State's record overall enrollment, student numbers are setting records in nearly every category this fall:
Record undergraduate enrollment of 24,343, an increase of 1,239 students from fall 2010.
Record international student enrollment of 3,424, an increase of 97 students from the previous record of 3,327 students in fall 2010. The overall number also reflects a record in the number of international undergraduates: 1,894.
The most diverse student enrollment in Iowa State's history. More than one in five ISU students is either a minority or an international student. Total U.S. minority and international enrollment is 6,369, or 21.31 percent of the student body. (The previous record set in fall 2010 was 5,942, or 20.7 percent of the student body.) U.S. minority enrollment is 2,945 (9.85 percent of total enrollment), a new record and an increase over last fall's 2,615 students. Each year since 2006, Iowa State has met or exceeded the 8.5 percent minority enrollment goal set by the state Board of Regents.
The second-highest graduate student enrollment at Iowa State. There are 4,957 graduate students attending Iowa State this fall, down 33 from last year's record of 4,991.
An increase in ISU's retention rate: Of the students who began at Iowa State in fall 2010, 87.8 percent of them continued in fall 2011, compared to 86.1 percent the prior year.
An increase in nonresidents: 11,361 students are from out-of-state, up from 10,234 nonresidents in fall 2010.
Stable professional student enrollment: 587 students are enrolled in veterinary medicine at Iowa State, equal to last fall's record.