Sept. 1, 2011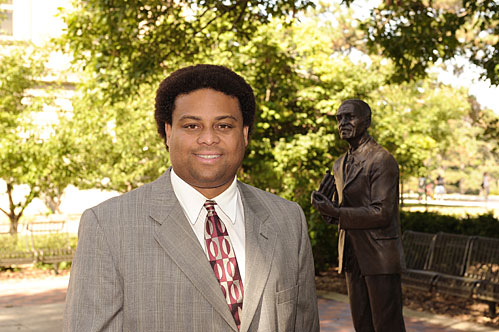 Photo by Bob Elbert.
Welcome
John Taylor became Iowa State's first equity and diversity coordinator on Aug. 17. He reports to associate provost Dawn Bratsch-Prince, who also serves as the university's chief diversity officer.
Among his many responsibilities, Taylor will assist with the recruitment and retention of minority faculty; work with the African-American, Asian, Latino/a and LGBT (lesbian, gay, bisexual, transgender) groups on campus; participate in the University Committee on Diversity and the University Committee on Women; and coordinate the annual Emerging Leaders Academy.
For the past 11 years, Taylor worked as a management and diversity consultant in Des Moines, specializing in equity and diversity management and leadership. He previously worked at Iowa State from 1997 to 2001 in the Office of Training and Development where he facilitated diversity workshops and leadership development programs.
Taylor earned a bachelor's degree in political science and sociology from Iowa State (1994), and a master's degree in educational administration from Oral Roberts University (1997).
Taylor's office is in 1550 Beardshear; his phone number is 4-6142.