June 23, 2011
Purchase ticket packages for 2011-12 Stephens season by June 30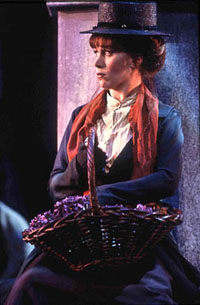 My Fair Lady will be on the Stephens stage Feb. 23, 2012. Submitted photo.
Eliza Doolittle. Ms. Frizzle. Sleeping Beauty. King Arthur and his knights (Monty Python-style). Beatles impersonators The Fab Four. They're all coming to Stephens Auditorium during the 2011-12 season, and the window for purchasing advance, discounted tickets is about to close.
Packages of three or more shows are available through June 30 to Performing Arts Fund donors and renewing and new "subscribers." In addition to ticket discounts of up to 15 percent, subscribers enjoy priority seating over single-event ticket holders, free replacement if tickets are lost or stolen, a free ticket exchange and the Front and Center newsletter.
Tickets to single shows go on sale to the public July 18.
To order tickets to multiple shows, go to the Iowa State Center ticket office in Stephens (open 10 a.m.-4 p.m. Monday-Friday), or download the order form on the center's website. It can be faxed in (515-294-6995) or mailed to: Suite 102, Scheman Building, Ames 50011-1113.