June 23, 2011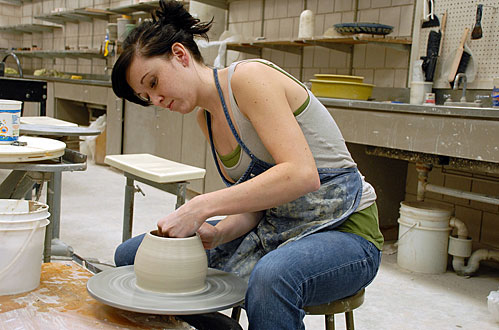 May graduate Jenna Weir is one of nine College of Design alumni participating in this weekend's Des Moines Arts Festival in the "Emerging Iowa Artists" division. Photo by Alison Weidemann.
Nine emerging artists will represent ISU at Des Moines festival
by Heather Sauer, College of Design Communications
Nine recent ISU integrated studio arts graduates are among 22 Emerging Iowa Artists selected to exhibit their work this weekend (June 24-26) at the 14th annual Des Moines Arts Festival downtown (PDF) in Western Gateway Park.
Emerging artists from Iowa State this year include:
2011 graduate Jenna Weir, Sioux Falls, S.D.
2010 graduates Jessica Dean, Newton; Patrick Doubet, Mt. Vernon; Sarah Hutchison, Urbandale; Elizabeth Mason, Ames; and Sarah Pargulski, Des Moines
2009 graduates Maureen Burke, Ames; Julie Solberg, Eagan, Minn.; and Christian Vandehaar, Altoona
All nine received Bachelor of Fine Arts degrees in integrated studio arts. Weir, who graduated in May, will exhibit functional pottery, including large platters, teapots and cups. She said she is looking forward to presenting her work to a new and more diverse group of people at the Des Moines festival, which annually attracts more than 200,000 visitors.
"Everyone always loves teapots," she said. "And while a lot of people don't have platters at home, they could use them for many different things, both functional and decorative."
The Des Moines Arts Festival awards jury will present one $1,000 Best of Show Award for the best student artist.
Painter Chris Vance, Bondurant, who received a BFA (visual studies) from Iowa State in 2000, is among the 180 professional artists selected from nearly 1,100 applications for this year's festival.
Festival hours are 11 a.m. to 10 p.m. Friday, 10 a.m. to 10 p.m. Saturday, and 10 a.m. to 5 p.m. Sunday. Admission is free. More information about the festival is online.