April 28, 2011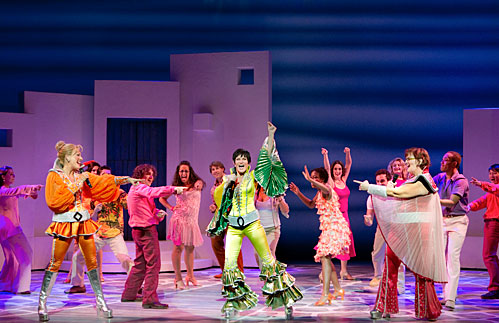 Mamma Mia! will spend two nights at Stephens
Stephens Auditorium will play host to a rare two-night tour engagement when the musical Mamma Mia! stops in Ames for 7:30 p.m. performances on May 2 and 3. Written by Catherine Johnson, the story incorporates hit songs by ABBA, a Swedish pop music group that topped the charts in the 1970s and 80s.
The story follows Sophie's quest to find her father -- one of three possible candidates from her mother's past. She secretly invites all three to her wedding on the Greek island where they met her mother, Donna, 20 years earlier. Meanwhile, Donna's best friends -- and former members of their girl group trio -- have arrived for the wedding celebration. Toe-tapping tunes and outlandish costumes add to this fun tale of rediscovered relationships.
Tickets are $51-$55 for adults, $34 for youth and $27 for ISU students. They are available through Ticketmaster, or at the Stephens ticket office. Contributed photo.