April 28, 2011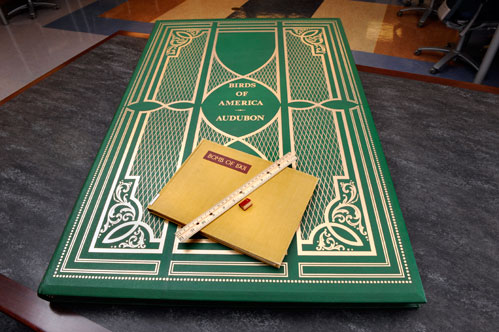 Of all the books in ISU's library system, here are two that stand out -- the largest and the smallest. The largest book, at just over 40.5 inches tall, is Birds of America by John James Audubon (Reprint: New York: Abbeville Press, 1985). The smallest book, at a petite 0.787401 inches tall, is Addresses of Abraham Lincoln, part of a three-volume miniature series (Washington, Lincoln and Coolidge) published by the Training Division of the Kingsport Press of Kingsport, Tenn., as student exercises in 1929 and 1930. The Bomb of 1901 Iowa State yearbook and a ruler help bring the extreme sizes of these books into perspective. Photo by Bob Elbert.
ISU Library: By the numbers
by Paula Van Brocklin
ISU Library, including Parks Library and its branches in the colleges of Design and Veterinary Medicine, the mathematics department plus a storage building, are chock full of books containing more facts and figures than one can possibly imagine. But the library itself has a pretty interesting story to tell, too. Here's a look at some interesting facts and figures about ISU Library.
Collections
Total volumes held (including branches): 2,626,074
Books purchased annually (FY 10): 27,053
Journals received annually (FY 10): 98,610
Electronic journals: 85,655
General collection equals 28.02 miles of books (that's roughly from Parks Library to Ankeny via I-35)
The oldest book in the library, Quaestiones de veritate by Saint Thomas Aquinas, was printed in 1475
Interesting tidbits
Library building visitors (FY 10): 1,829,230
Non-ISU library visitor cards: 2,600
Seats for patrons (including branches): 2,549
Book checked out most often (2010): An e-book, GRE Math Bible by Jeff Kolby and Derrick Vaughn, was checked out 2,942 times
Top three institutions ISU Library borrows from most: University of Iowa, University of Kansas and University of Wisconsin, Madison
Top three institutions ISU Library lends to most: University of Iowa, Texas A&M University and University of Arizona
Size matters
Parks Library: 325,488 square feet
Design Reading Room (111 Design): 3,096 square feet
Mathematics Reading Room (409 Carver): 552 square feet
Veterinary Medical Library (2280 Vet Med): 6,631 square feet
Library Storage Building (Daley Drive): 16,500 square feet
Art in Parks Library
Murals: Prairie Sky by Kurt Anderson; Unlimited Possibilities by Doug Shelton; When Tillage Begins, Agricultural Panel, Home Economics Panel and Engineering Panel by Grant Wood; What We Love About Iowa State by Sticks
Sculptures: Boy and Girl and Old Woman in Prayer by Christian Petersen; Left-sided Angel by Stephen DeStaebler; On Shoulders of Giants by Nina Ward
Portraits: Iowa State presidents, William Robert Parks and Ellen Sorge Parks by various artists
Other art: Judith Lazelere banner; Nellie Walker bas reliefs; Printers' Marks bas reliefs; and Henry Chapman Mercer fireplace tiles
Additional facts about ISU Library are available online.